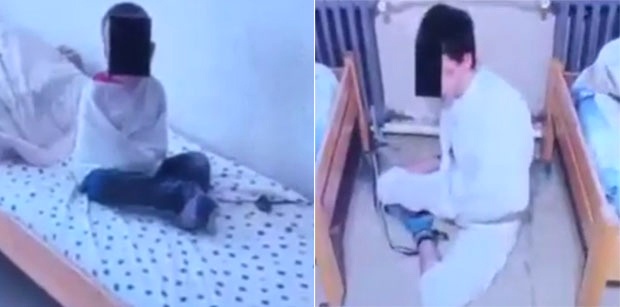 The Government of Federation BiH (FBiH) entity dismissed the Steering and Supervisory boards in the Home for mentally disabled persons in Pazarić, near Sarajevo, after an affair emerged about the mistreatment of children, housed in this institution.
The affair was triggered when MP in Sarajevo Canton Assembly, Sabina Čudić, showed shocking photos of children tied to beds and radiators. She explained that this caused them injuries and "serious deterioration of their mental health".
The Government tasked the Ministry of Labor and Social Policy to start a procedure of dismissal of the centre's manager.
The decision comes one day after the first in a series of protests the citizens announced in front of the FBiH Government building in Sarajevo. The Government expressed a firm commitment to appoint a new management in this institution, which would consist of professional and adequately trained staff. Also, Sarajevo Canton Interior Ministry's officers entered the premises of the centre in Pazarić to investigate the allegations about the ongoing situation.
"We're carrying out certain activities in the centre, under the direct supervision and instructions of Sarajevo Canton's Prosecutor's Office", the ministry's spokesperson Mirza Hadžiabdić told to media.
FBiH Minister for Labour and Social Policy, Vesko Drljača, said to the media that the information about the treatment of children in the Centre is shocking and that they must be treated in a more humane way.
"As a citizen and a minister, I am shocked by the presented facts and allegations. These things are even more shocking when we consider that they concern mentally challenged children. The relation we have to build towards them has to be built in a more humane way. I would like to say that the Government never received an official document that points at the breaches and abuses regarding their treatment," said the minister.
Drljača avoided answering the question of why the Centre manager was dismissed too since he was the first one to speak about the irregularities in that institution a few months ago.
Dismissed manager, Redžep Salić, told the media that he will not comment on the Government's decision.
The information about the treatment of the children in the Centre triggered protest from citizens and they gathered for second day on Friday in front of the Government building. As they announced, the next protest will be held on Saturday near Eternal flame in Sarajevo downtown. Citizens are not satisfied with dismissals and demand more resolute actions aimed at protecting the children./ibna