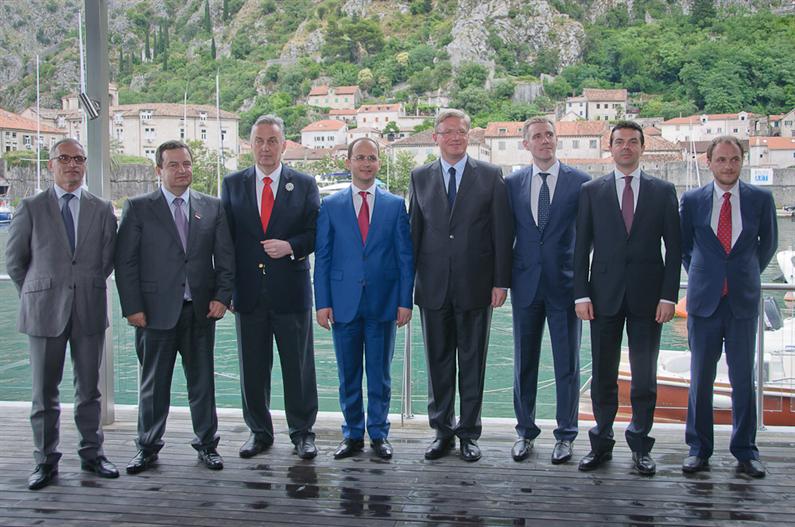 By Adnan Prekic – Podgorica
Montenegro, hosted an informal meeting of Foreign Ministers of the Western Balkans. The host was the head of the Montenegrin diplomacy Igor Luksic, and next to him attended the foreign ministers of Albania, Bosnia and Herzegovina, Kosovo, FYR Macedonia and Serbia, as well as the European Commissioner for Enlargement and Neighboring Policy, Stefan Fule.
After a joint meeting of Foreign Ministers of the region, it was assessed that the rule of law, economic governance and improving transport infrastructure, are areas within which there is scope for enhancing regional cooperation. The ministers agreed that it is necessary to identify opportunities for achieving the standards so that the region was prepared for membership and the duties of the European Union.
Montenegrin Foreign Minister Igor Luksic said that they identified three crucial areas. The first refers to the rule of law, due to the EU accession process of the countries of the region will have to undergo. This process in its content and core includes the adoption of the standards of the rule of law. The second area is economic management,  because of the lesson learned by the economic crisis and its consequences, making it  imperative for regional countries to improve economic management to be ready and more resistant to a  possible future impact of an economic crisis. Last but not least, an important area is achieving better communications in the region. Good transport links will support regional trade, and eliminate business barriers, said Luksic.
EU Enlargement Commissioner Stefan Fule said that the meeting was an important step for the region in the process of joining the EU. In our annual progress report, you saw how much attention is paid to regional cooperation and I am glad that the minister mentioned the three pillars that have been deeply rooted in the enlargement process. The European Commissioner pointed out the importance of joint struggle of the region against organized crime. Last year we agreed on how to improve the economic situation in the countries of aspirants and candidates, and now here we can see how we can help the countries become more competitive not only locally but also on a broader level, said Fule.
The European commissioner announced that he is now thinking about specific projects in the areas of transport and energy. After the summer, we will host a ministerial conference on high-level, attended by the Minister of Economy and Foreign Affairs. In here we will be able to see how we can improve the infrastructure in the region and how to establish a better connection between the countries in the region in a concrete way and in a specific time period. This means taking additional actions and attracting investments, as well as creating synergies within these three pillars we have presented. These issues are very important; they represent a new "age" and they are giving a new dimension when it comes to expansion, and are important for the citizens, Fule said.