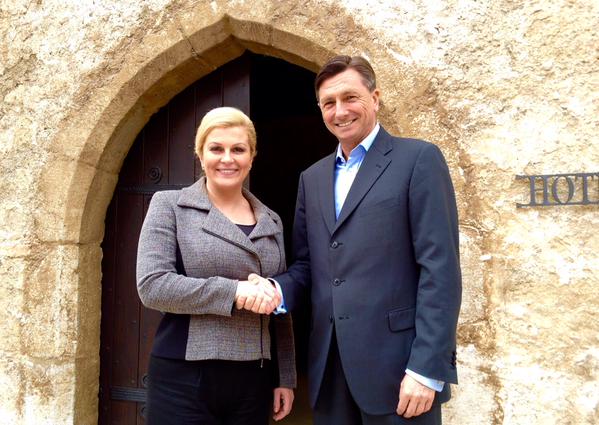 Zagreb, March 2, 2015/ Independent Balkan News Agency
By Marija Avramovic
Croatian President Kolinda Grabar Kitarovic held an informal meeting with her Slovenian counterpart Borut Pahor, on Sunday, during which besides talks on the strengthening of bilateral relations and cooperation in the Euro-Atlantic institutions, regional cooperation was also discussed, the office of president Grabar Kitarovic announced today.
Leading Slovenian newspaper "Delo" notes that unofficial sources claim that Pahor passed on to Croatian president  a message from Serbian Prime Minister Aleksandar Vucic, who was recently in Slovenia on  his first official visit.
The aim of Vucic's visit to Slovenia was strengthening of economic cooperation but he also privately met with Pahor, who wants to continue the regional initiative to strengthen stability and confidence in the region, known as the Brdo process.
Slovenia and Croatia have jointly launched the idea of the Brdo process during an informal meeting of prime ministers of the two countries,  Pahor and Jadranka Kosor, in January 2010.
Yesterday's unannounced meeting in Otocac, a town halfway between Ljubljana and Zagreb, from which the media was sent only a short statement, lasted about two hours, and the two statesmen were accompanied only by just a few of their closest associates.
At the meeting, Grabar Kitarovic and Pahor spoke briefly about the upcoming visit of first female president of Croatia to Bosnia and Herzegovina, which will be her first official visit to a foreign country.
Several Serbian media, citing diplomatic sources, reported last week that the president of Croatia is coming in May on her first official visit to Serbia.
According to these sources, she agreed on the visit with Prime Minister Aleksandar Vucic during the bilateral meeting that took place after her inauguration in Zagreb.
Neither the office of Vucic nor Grabar Kitarovic's have confirmed this rumor yet, so it might be possible that yesterday Pahor passed on Vucic's invitation to Grabar Kitarovic to visit Belgrade.