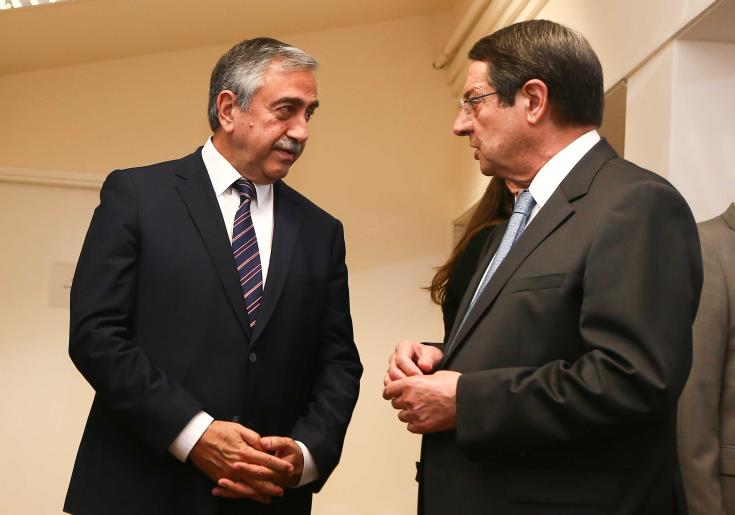 The two leaders' last informal meeting took place on February 26
By Michalis Michael
The President of Cyprus, Nicos Anastasiades, will have an informal meeting with the Turkish-Cypriot leader Mustafa Akinci at 9.30 am today, almost five and a half months after their last informal meeting in late February. The two leaders' meeting is set against the background of the escalated illegal Turkish activity within Cyprus' Exclusive Economic Zone, as well as of the Turkish-Cypriot side's unilateral activity in the enclosed city of Famagusta.
The meeting is hosted at the residence of the UN Special Representative in Cyprus, Elizabeth Spehar, in the UN-protected area of ​​the old Nicosia airport. It will not be open to the media, and there will only be photos and television footage "from official photographers and cameramen from both sides".
As the government spokesman Prodromos Prodromou stated after the National Council on August 5 in Troodos, President Anastasiades' goal is to have a creative meeting with the Turkish-Cypriot leader, so that the right conditions will be cultivated, in order for the negotiations to be relaunched. Over the last few days, President Anastasiades has had close contacts with his colleagues in the presidential palace in Troodos, where he had the opportunity to consult information from envelopes, such as proposals and positions submitted, letters sent, convergences reached, as well as the UN Secretary General Antonio Guterres' framework of six parameters.
The last informal meeting of the two leaders took place on February 26, with President Anastasiades declaring shortly after that, alongside the Turkish-Cypriot leader, they had agreed to do their utmost to formulate the terms of reference needed to begin a creative and effective dialogue. President Anastasiades also added that he had developed ideas around the decentralization of powers during that February meeting, with the Turkish-Cypriot leader insisting, however, that even in this case, the Turkish-Cypriot community should retain its right to vote in favor of any decision.
The United Nations had announced after the February 26 meeting that the two leaders had taken a number of decisions around Confidence Building Measures, including a permanent arrangement for electricity supply and interoperability in mobile telephony, with the last CBM being put in force on 11 July. Decisions were also made for mines to be cleared in nine dangerous areas; the Turkish-Cypriot side decided to return Greek-Cypriot artists' paintings it was holding on since 1974, while the Greek-Cypriot side would hand over Turkish Cypriot artists' visual and audio recordings from before 1963./ibna