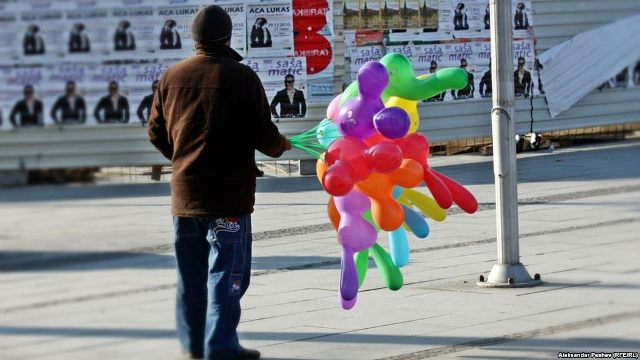 Skopje, 14 October 2015/Independent Balkan News Agency
By Naser Pajaziti
Informal economy is growing in FYR Macedonia. Many people who are unemployed, are involved in informal businesses to avoid taxes and other obligations.
According to the Center for Research and Creation of Policies in Skopje, informal economy is growing due to high unemployment and lack of confidence on the state. This leads to people accepting work in black.
According to this center, informal economy mainly consists on construction, industry of services, tourism and artisan services. The findings of the study reveal that informal economy has grown by 47%.
Informal activity for survival?
The head of the Center for Research and Creation of Policies, Emil Surkov told IBNA that people engage in informal businesses with the only scope of survival and not to make a profit.
"In Macedonia, this category consists of unemployed people, people on low incomes and other social categories. These people must not be subject to sanctions. Other measures should apply for them, such as the increase of minimum wage and tax reliefs, so that they abandon informal work and engage in legal work", Surkov said.
But according to him, institutions must fight informal economy among large companies, which conduct secret money transfers, conceal their profits and also do other things which relate to tax evasion.
Merchants explain why they don't pay taxes
According to statistics, informal economy is more present in the western and southwestern part of the country, namely in regions such as Tetovo, Gostivar, Manastir, etc.
This category of people confirms the work in black that they do.
Muhedin A from Tetovo, says that he's forced to work in black, because he's unable to pay taxes to the state. He says that his business can barely secure him enough incomes to survive on.
"As a merchant, I can barely meet ends meet. My daily takings go for food and utility bills. I don't make enough to pay taxes. If we pay taxes, then we starve", says the 40 year old from Tetovo who works as a merchant at the market of Tetovo.
The government to come up with a plan to tackle informality
Informality is part of the debate even among non government organizations, which have constantly demanded the government to implement employment projects and apply tax reliefs for people who sell on the streets.
Minister of Labor and Social Policies says that informal economy has fallen. Mladen Veleski from the Ministry of Labor and Social Policies, says that government projects to tackle this phenomenon continue.
However, data from this ministry indicate that informal economy amounts to at least 45%, where many young people work in black.
The government has a plan to reduce informality. In contrast to Albania, which started a campaign against informality by applying penalties and even jail sentences for those who don't pay taxes, authorities in Skopje aim at tackling informality by stimulating employment and the legalization of businesses.
"While auditing different businesses, our inspectors have found undeclared employees, for which no health and social contributions are paid. The government has a plan to stimulate the employment of young people through different projects or to legalize their business. We are implementing different projects which we think will have an effect", says Mladen Veleski from the Ministry of Labor and Social Policies.
***
Informality is a real concern for the state's treasury. These illegal activities damage the state budget, as losses are estimated to be around 3 billion euros. /ibna/