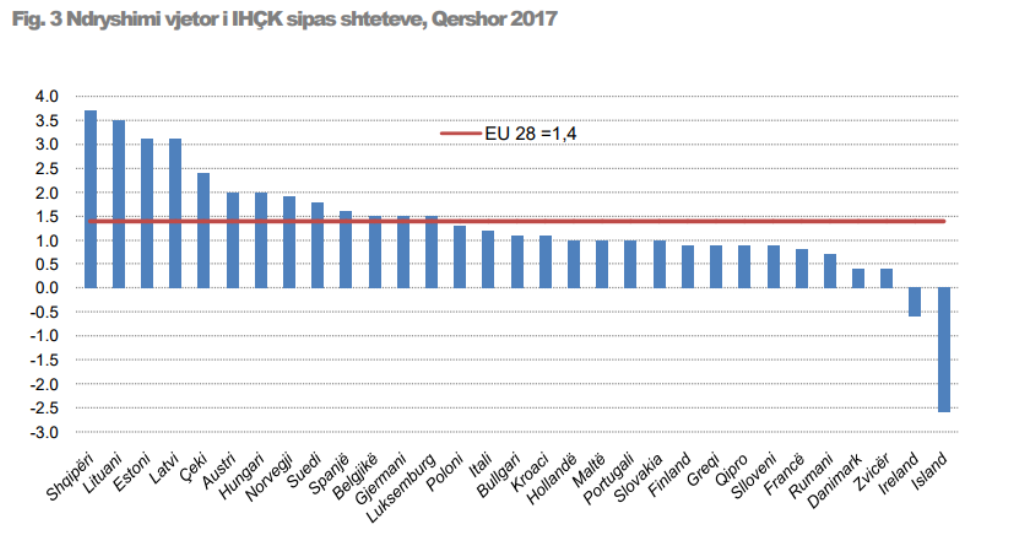 Inflation in Albania doesn't seem to be stopping while it has exceeded the European Union average by several times.
Such phenomenon is shown by the latest figures supplied by Albanian institutions, according to which, in the month of June this year, inflation grew by 3.7% compared to a year ago.
Meanwhile, referring to the average rate of inflation in European Union countries, which has been 1.4%, inflation in Albania has exceeded it by 2.5 times.
This shows a high level of increase in the prices of consumption goods in Albania, which exceeds the objective that the Central Bank has set, 3%.
"The annual change of the Harmonized Index of Consumption Prices in the month of June 2017 is 3.7%. This change has been mainly affected by the annual increase of prices in the 'food and non-alcoholic beverages' with 8.8%, followed by 'goods and different services' with 3.1%, 'rent, water, fuel and power supply' with 1.8%, 'entertainment and culture' with 1.6%, etc", states the report issued by the Institute of Statistics, published on the rate of inflation for June 2017. /balkaneu.com/