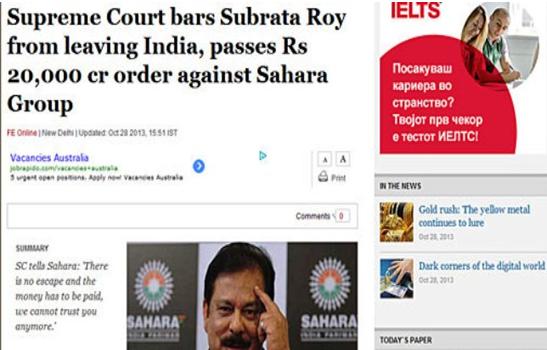 Skopje, October 29, 2013
Indian businessman, Subrata Roy and his company "Sahara Group" have been issued a freezing order by the Supreme Court in India. Roy is known about his promises and investment projects in FYR Macedonia and for his close connections with Prime Minister Nikola Gruevski.
But recently, he was forbidden to leave the country, as court has ordered Roy to hand in the titles of his assets amounting to a value of 4 billion USD.
SEBI regulatory body for investments in India has stressed that "Sahara Group" has debts amounting to 4 billion USD to the state and to foreign investors in this country.
India's Supreme Court has ruled that if "Sahara Group" doesn't hand in the titles within 3 weeks, Subrata Roy and other directors of this company cannot leave the country without a permit.
"You cannot flee and the debts must be paid. You allowed yourself to hide, but from now on, we can no longer trust you", states the ruling of the Supreme Court of India.
Subrata Roy known for his Sahara Group, supported by the government of Prime Minister Gruevski in FYR Macedonia, is planning a tourist camp with a large investment in the OhridLake. This project has been objected by several institutions in Skopje, as Ohrid's cultural heritage, under UNESCO's protection, will be damaged.
Roy has also pledged for an investment in agriculture and farming amounting to several million Euros, the construction of the gigantic monument of Mother Teresa in Skopje and other projects. /ibna/