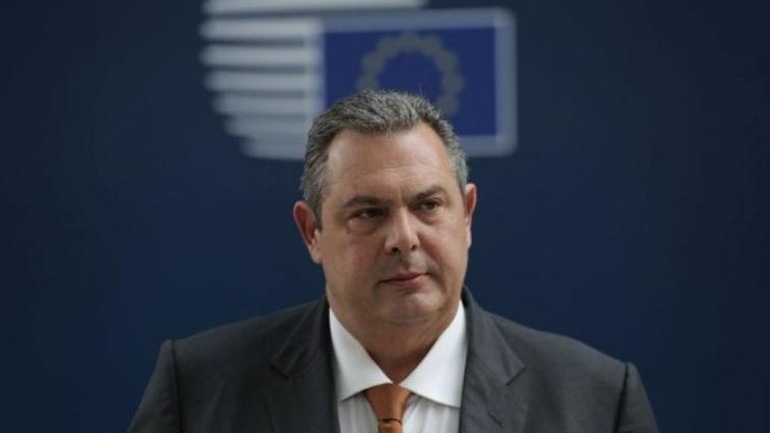 Independent Greeks (ANEL) party leader Panos Kammenos held an extraordinary press conference on Wednesday to comment on the latest developments following the government's name-change agreement with FYROM.
Panos Kammenos told reporters that he will ask for the agreement with fYROMacedonia to be ratified by an increased majority of 180 MPs when it comes to Greek parliament.
He went on to say that an effort is underway to "buy out" ANEL MPs, adding that the extreme reactions to the fYROM agreement are being instigated by main opposition New Democracy.
The ANEL party leader also demanded that a prosecutor orders an investigation into the threats and attacks on his party's MPs from people he called "neo-fascists and members of criminal groups".
Kammenos defended his party's stance in the recent no-confidence vote and reiterated his view that the agreement struck with fYROM will be rejected in Skopje before it ever comes to Greek parliament for approval.
The leader of the junior coalition party also called the deal a "draft agreement with no legal effect", thus explaining why he offered the government support in the no-confidence vote. Yet again, Kammenos made clear that his party will vote down the agreement if it is ever put to a vote in Greek parliament.
Earlier, the Parliamentary Group of the Independent Greeks party convened to discuss strategy on the fYROM agreement, in light of several party members resigning from the party. Leader Panos Kammenos said the meeting was held in a very positive climate, despite the attack party MPs have come under in the last few days.
Meanwhile, speaking to reporters on Wednesday, government spokesman Dimitris Tzanakopoulos said that a vote of confidence would be held in the event that ANEL votes against the name deal in Parliament.
Asked about comments by the ANEL MP Panagiotis Sgouridis, according to which Athens made concessions on the name-change deal in order to secure debt relief is granted to the country, Tzanakopoulos dismissed them as rumors that reveal an ignorance about the way institutions and governments work in Europe./IBNA