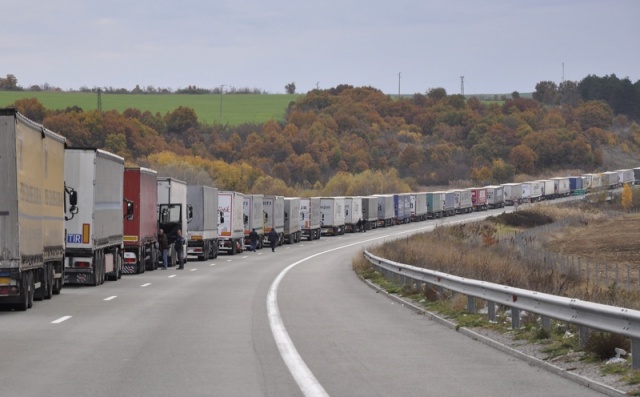 Sofia, November 16, 2015/ Independent Balkan News Agency
By Clive Leviev-Sawyer of The Sofia Globe
Long queues of lorries and cars formed at Bulgaria's border crossings with Turkey at the Kapitan Andreevo and Lesovo checkpoints as a result of stepped-up security measures after the Paris terrorist attacks.
Bulgarian Border Police had warned on November 14 that enhanced security measures would result in slower processing of identity documents at Bulgaria's border checkpoints with Turkey, Serbia and Macedonia.
Everyone crossing the frontier was being checked, irrespective of whether they were citizens of European Union or other countries, according to a report by public broadcaster Bulgarian National Radio.
A 12km queue of lorries formed at the Kapitan Andreevo checkpoint at the Turkish frontier on November 15, BNR said. The night processed 418 goods lorries crossing from Turkey and 351 crossing into Turkey.
After Bulgarian authorities issued orders to step up security in the wake of the terrorist attacks in Paris, gendarmerie and police took up positions at the weekend at airports, other strategically important sites and various state institutions.
Places where additional uniformed and plainclothes security personnel were deployed included sports, cultural and entertainment events, the Presidency and Cabinet offices in Sofia, Parliament and shopping malls.
As of November 16, security also was being stepped up at schools and universities.
Media reports said that people from "risk groups" who were residents of France were being carefully checked at the crossing points over the Danube. The reports reminded that it was believed that the terrorists involved in the attack in 2012 at Bourgas Airport had used the crossing point.
Reports quoted Border Police in Rousse on the Danube as saying that there was increased attention to citizens of France, those who resided there or were travelling to that destination. The luggage of people from "risk countries" resident in France was being inspected.
Interior Ministry teams have strengthened security in the 30km perimeter zone of Bulgaria's Kozloduy nuclear power station. Limits have been placed on access of outsiders and cars to the territory of the nuclear power station.
At Bourgas on the Black Sea coast, uniformed police patrols near the railway and bus stations were increased and security at the airport doubled even though there are fewer flights because it is now the autumn and winter season. Similar measures were taken at Bulgaria's largest Black Sea city, Varna.
On November 16, Sofia mayor Yordanka Fandukova told a city council meeting that at her request, the Sofia police directorate had increased the number of police patrols in the capital city.
"We should respond to all this with firm and adequate security measures," Fandukova told the city council, adding that she had spoken on November 14 with Interior Minister Roumyana Buchvarova, who had given an assurance that all necessary measures had been taken for the security throughout the entire country, including in Sofia.
Fandukova said that she had ordered extra patrols along Maria Louisa Boulevard and at the Zhenski Pazar (Women's Market), where there is a high concentration of migrants and a relatively high crime rate.