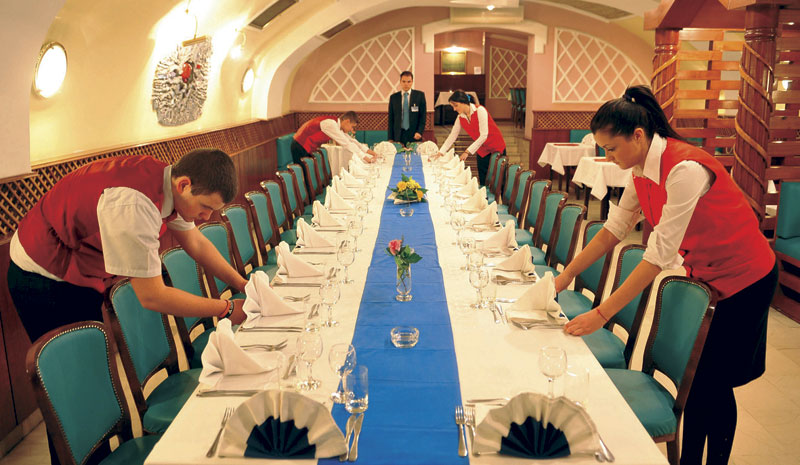 By Adnan Prekic – Podgorica
Before this year's tourist season the montenegrin economy had a problem with the workforce. Although nearly 35,000 people are in the bureau waiting for a job, a large part of the seasonal workforce will again come from the countries in the region. The workforce deficit exists in more than 50 occupations, including catering, construction, agriculture and food, mining, engineering and electronics, manufacturing, utilities, trade, pharmaceuticals and financial services.
The overproduction of college students on the one side combined with a deficit of vocational staff, craftsman occupations, semi-skilled and skilled workers, is a problem that Montenegro faces more and more. This problem is expressed throughout the year, but it becomes especially apparent in summer, during seasonal jobs, when economic activity increases. During the summer, demand for seasonal workers is between 15,000 and 18,000 people. In 2013 alone there were issued 22,498 work permits and employment to foreigners.
Foreigners who come to work in Montenegro in most cases are coming from Serbia 44%, Bosnia and Herzegovina 21%, Russia 14% and FYR Macedonia 7%. According to the industry, most permits were issued in the tourism and hospitality industry, construction industry and the wholesale and retail. The occupations of foreigners working in Montenegro are mostly waiters, bartenders, maids, cooks, assistant workers in construction, benders, carpenters, masons, painters, painters facaders, plumbers, fitters, welders, handicraft, construction technicians, machinists, salespersons in stores, and support workers in agriculture.
In order to mitigate the influx of foreign workers in Montenegro, the government has begun the process of subsidizing employers. Employers are subsidized in an amount of 100 euro per month if they hire a person with no work experience, or 80 euros per month for someone who has some experience. More than 3,000 young people in the past two years have been employed by this project. Despite the state's efforts to engage the local workforce, the number of those who come from the region is still large. Employers prefer to hire foreign workers because they do not have time to train the local workforce.
In addition to subsidizing employers, the Government of Montenegro through the Employment Bureau started programmes for the additional schooling of personnel in the field of tourism and hospitality professions. In these programs there have been trained about three thousand unemployed in occupations such as cooks, waiters, pizza master baker, bartender, confectioner.
Exactly how hard it is to find adequate personnel in Montenegro is depicted in one ad in the newspaper that gave a farmer from northern Montenegro. He sought through advertisements shepherds that would keep the flock of 200 sheep for which he offered a salary of 1.000 euro, including accommodation on summer pasture and food. No one responded to this ad, so the farmer had to find shepherds from the neighboring countries.