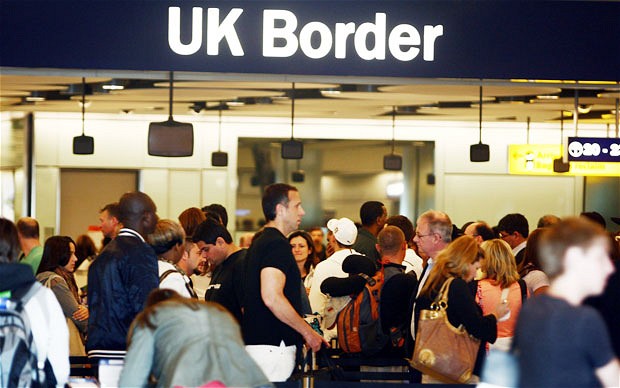 London, August 28, 2015/ Independent Balkan News Agency
By Thanasis Gavos
In the midst of a highly charged public debate in the UK about immigration, the Office for National Statistics (ONS) published its latest annual report which shows a significant increase in the number of foreign people who opted for a life in Great Britain and Northern Ireland in the twelve months to March 2015.
The record annual net increase in immigration reached 330,000 people, almost 10,000 more than the previous record of 2005, when eastern European countries had joined the EU. On a yearly basis there were 84,000 more immigrants coming to the UK (636,000 in total) and 9,000 fewer emigrants leaving the country (307,000 in total).
The biggest annual increase came from citizens of EU member countries. The ONS made a special reference to the number of Romanians and Bulgarians who entered the UK after the lifting of the seven-year long restrictions imposed by the London government.
More specifically, the arrivals from those two Balkan countries were nearly doubled over the period covered by the report in comparison to the previous 12-month period; 53,000 over 28,000.
A parallel statistical table issued by the ONS showed that during 2014 (January – December) the foreign-born population of the UK amounted to 13% of the total, around 8.28 million inhabitants. More than 3 million of them had by the end of 2014 obtained the British citizenship.
A second table for 2014 included estimations on the foreign (non-British passport holders) population living in the country; although the data did not take into account cases of dual citizenship, foreigners who have become naturalised British nationals or British citizens of other national origin.
As far as the Balkan countries are concerned, there were an estimated 175,000 Romanians living in the UK in 2014, 59,000 Bulgarians, 54,000 Greeks, 47,000 Turks, 17,000 Greek Cypriots and 7,000 Turkish Cypriots, 11,000 Albanians, 5,000 Slovenians, 4,000 Croatians, 4,000 Kosovars and 1,000 nationals of Serbia, Bosnia and Herzegovina and fYROM.
Romania features in the 11th place of the top 60 countries of birth of the overseas-born population of the UK, with 170,000 people (which in combination with the previous figure means that there are about 5,000 Romanians that were born in the UK).
Turkey was the country of birth of 82,000 people living in the UK, Slovenia of 75,000, Bulgaria of 65,000, Cyprus of 60,000 and Greece of 52,000.