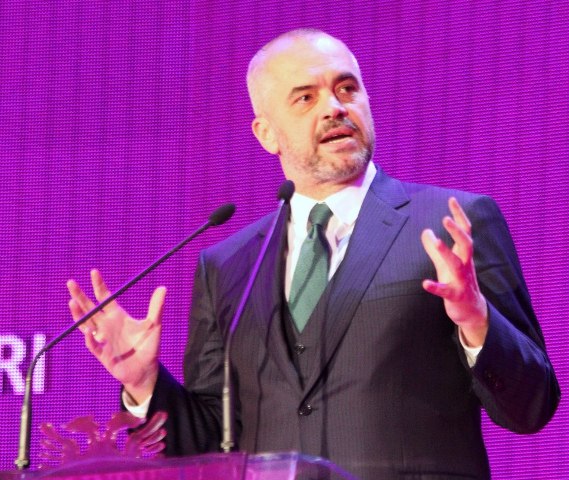 Tirana, July 24, 2013
The incoming Prime Minister, Edi Rama has presented today the new structure of the government for the next 4 years.
Rama said that this is a structure built based on an important analysis of the current structure and branches which he compared to a body with many parasites within.
"The structure of the new government has been built based on priorities and the needs of the country, following consults with government structures of new EU member countries and also taking into consideration the necessity to have a government which will have more focus, clearer responsibilities between sectors and more opportunities to produce better results with fewer expenses", said Rama.
Rama said that the entire organics of the Council of Ministers will see a reduction and that a new relationship will be established between the cabinet of the Prime Minister and the entire pyramid which today results to be overpopulated.
Rama said that there will be a deputy Prime Minister without portfolio, where he added that the Ministry of Finance doesn't change, but will undergo a deep reform. The same thing will happen to the Ministry of Interior, Defense and Foreign Ministry.
Moreover, the new head of the government said that the Ministry of European Integration will assume a new role and power.
As far as the Ministry of Justice is concerned, Rama said that this institution doesn't change much in terms of competences, but it will undergo a deep reform.
Rama declared that there will be a division of the Ministry of Economy into the Ministry of Economic Development, Trade and Enterprise and Ministry of Energy and Industry.
The Ministry of Public Works and Transport will be divided into the Ministry of Urban Development and Tourism and the Ministry of Transport and Infrastructure.
According to the head of the Socialist Party, the Ministry of Agriculture, Rural Development and Administration of Waters will be a full structure.
Rama said that education will be joined with sport at the Ministry of Education and Sport, adding that there will also be a Ministry of Social Welfare and Youth.
"The Ministry of Culture will not have tourism within it. The Ministry of Environment will have exclusive competences for the protection of environment. We will have a Minister for Innovation and Public Administration and a Minister for Local Issues who will cover all gaps between the local and central government", said amongst others the new head of the government. /ibna/