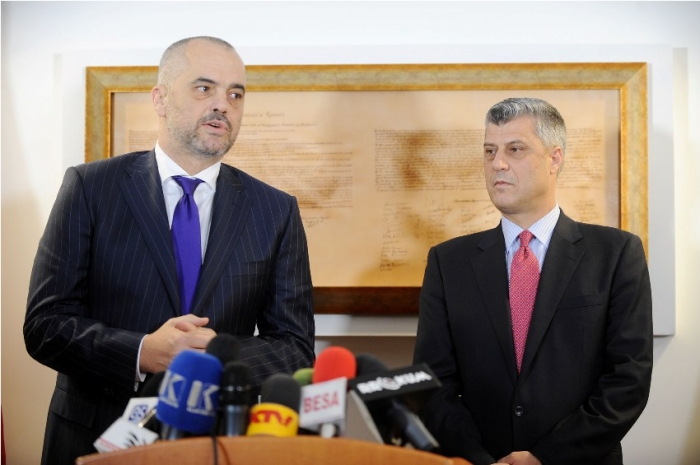 Tirana, September 6, 2013
In the framework of his visit to Albania, Prime Minister of Kosovo, Hashim Thaci was received today in a meeting by Prime Minister designate of Albania, Edi Rama.
During the joint press conference, Rama said that their meeting focused in the continuity of a systematic communication, which has always been maintained, but also to establish the main points of a deep cooperation to offer more opportunities for all Albanians.
Rama praised the steps taken by the government of Kosovo for the new vision on Kosovo, but also the agreement reached with Serbia as a new opportunity for cooperation in the region and a point of referral in the future relations.
According to him, the agreement between Pristina and Belgrade marks the end of an era and the opening of a new era, in order for all the heads of the states of the region to cooperate in this new space.
"During this meeting we talked about a visit that I and a part of the ministers will hold in Pristina after the formalization of the government. I shall immediately start the preparations for a bilateral meeting between the two governments, in order to push forward cooperation between us in the domains that we have identified", said Rama.
Meanwhile, Prime Minister of Kosovo congratulated Prime Minister designate Edi Rama on the victory of June 23 elections.
Thaci declared that there will be close cooperation between the two governments, while adding that the government of Kosovo and its citizens have faith in the scope and vision of the new government for a European Albania. /ibna/