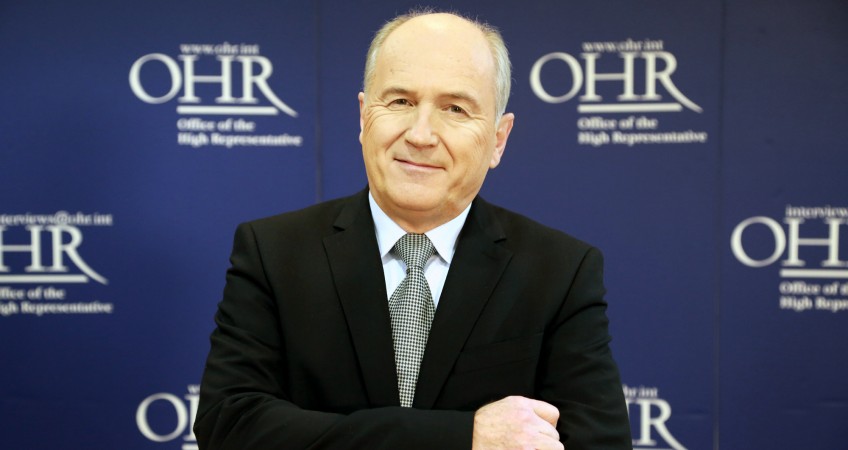 Visoki predstavnik međunarodne zajednice u BiH, Valentin Incko, rekao je u intervjuu za Oslobođenje da vjeruje da će dalje evroatlantske integracije donijeti značajne koristi za građane Bosne i Hercegovine, mada OHR nema ulogu u ovom procesu. NATO i BiH trebaju odrediti prirodu svoga odnosa.
"U tom smislu, jasno je da pitanje integracije BiH u NATO predstavlja nadležnost i strateški vanjskopolitički cilj države BiH, te da kao takvo spada u ustavnopravne odgovornosti države u vezi s vanjskom politikom. Upravo su u ovoj sferi državnih ustavnopravnih nadležnosti već i donesene formalne vanjskopolitičke odluke o pridruživanju NATO-u, i to odlukom Predsjedništva BiH iz 2009. godine te potom dopisom upućenim generalnom sekretaru NATO-a, u kojem je tadašnji predsjedavajući Predsjedništva BiH, g. Radmanović (SNSD), obavijestio NATO da BiH uistinu želi da se pridruži ovoj organizaciji. S obzirom na to da odluke Predsjedništva BiH važe sve dotle dok se ne izmijene ili zamijene, odluka Predsjedništva iz 2009. još uvijek je na snazi," rekao je Incko.
Kako je rekao, Predsjedništvo BiH je usvojilo i vanjskopolitičku strategiju BiH u martu 2018. godine, što takođe omogućava integraciju BiH u NATO. Incko je istakao da su prema članu 84. Zakona o odbrani ( dio: Aktivnosti za prijem u NATO) Parlamentarna skupština, Vijeće ministara BiH, Predsjedništvo, te sve strukture nadležne za pitanja odbrane, u okviru njihovih ustavnih i zakonskih nadležnosti, dužni provesti potrebne aktivnosti za prijem BiHu članstvo NATO-a.
Odgovarajući na pitanje o "sukobu oko zastave" u Predsjedništvu BiH i činjenici da je predsjedavajući predsjedavajući Predsjedništva BiH, Milorad Dodik, odbio sa se sastane sa članovima Upravnog odbora Vijeća za implementaciju mira u BiH, jer u sali nije bilo zastave Republike Srpske, Incko je rekao da je Zakon o zastavi jasan.
"U njemu se navodi da će zastava BiH biti službeno istaknuta na objektima Predsjedništva te prilikom svih službenih međunarodnih posjeta, te da ni jedna druga zastava iz BiH neće biti istaknuta zajedno sa zastavom BiH. Sastanak sa političkim direktorima Upravnog odbora Vijeća za provedbu mira je održan samo sa istaknutom zastavom BiH, što je u skladu sa relevantnim odredbama Zakona o zastavi. Nakon što je srdačno pozdravio članove Vijeća, predsjedavajući Predsjedništva je napustio sastanak i korektno prepustio predsjedniku Komšiću da uzme riječ, ali je za žaljenje da je odlučio da ode prije značajne diskusije sa članovima Vijeća. Članovi PIC-a očekuju da svi članovi Predsjedništva – kao najvišeg predstavničkog tijela države BiH – poštuju zakone i ustavni i pravni okvir BiH," naglasio je Incko.
Kako je rekao, njegova "jasna poruka" političkim liderima i onima koji su na čelu institucija je da rade u pravcu dijaloga i saradnje, da se suzdrže od neodgovorne retorike i poteza koji vode u podjele. Izrazio je nadu da se prepirke vidljive tokom predizborne kampanje, vrijeđanja i napadi u kojima su prozivani članovi porodice, više neće ponavaljati i da će izabrani zvaničnici raditi na postizanju zajedničkog cilja: izgradnji uspješne BiH u kojoj će njeni mladi naraštaji graditi svoju budućnost./IBNA