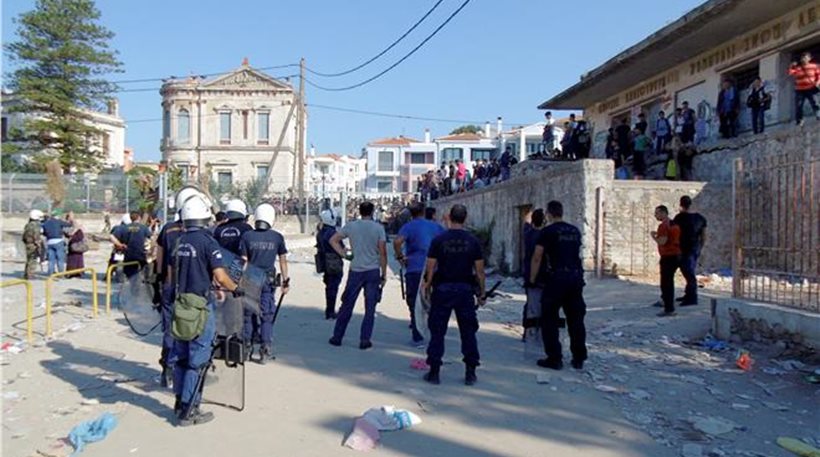 Athens, September 7, 2015/ Independent Balkan News Agency
By Spiros Sideris
Incidents among refuges are taking place on a daily basis at the port of Mytilene. On Sunday morning, tension rose once again when immigrants who were at the harbor of the island saw the passenger ship "Eleftherios Venizelos" approaching.
The incidents began when the assembled crowd moved to invade "Eleftherios Venizelos", which however will be able to board – at some point- only the 2,500 people who have managed to secure tickets.
The spirits calmed down after the intervention of the police.
With the immigrants on the island having reached now 17,000, the authorities start Sunday a titanic effort to decongest Lesbos.
Some of the agreeded upon in the meeting held in "island of Sappho", chaired by the new Deputy Minister of Migration Policy, Yannis Mouzalas, are the increased presence of the police and port authorities, as well as the utilisation of additional ships.
The aim of the new minister is the number of police officers dealing with the cross-checking of immigrants to reach 200.
Indeed, in the coming days will be sent in Lesvos ten additional recording and identification devices, with which ease the work of the police, who will be able to cross-check the information of more immigrants and to give them the… green card to disembark to the ships to Piraeus.
Meanwhile, after the explosive situations observed in the last 24 hours, with clashes of migrants in the port of Mytilene, extra riot police units have been sent, with an eye to increase them in the coming days.
"Finally, for the first time something begins to steer. Minister Mouzalas is visiting Lesvos today (Sunday) and he announced to us the decisions taken on immigration policy and the measures to be taken. At the same time, we are discussing the measures to be taken for Lesvos. Previously, the only ones who helped were volunteers", said the Prefect of North Aegean Christiana Kalogerou to protohtema.gr and added: "Until a few days ago we knew the number of refugees arriving on the island weekly was on averaged around 2,500, now they are so many we cannot calculate them".