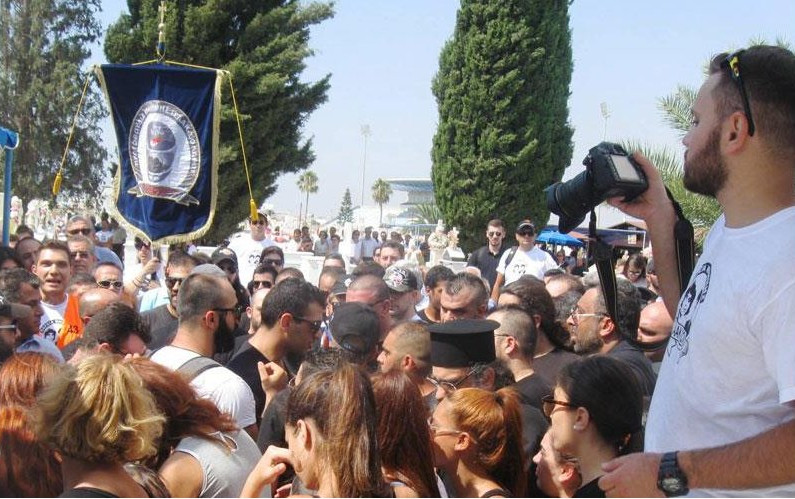 Athens, August 10, 2015/ Independent Balkan News Agency
By Spiros Sideris
Incidents against officials caused Sunday members of the "Golden Dawn" and E.LA.M (National Popular Front) in the memorial of Tassos Isaac and Solomos Solomou, who were murdered by extremists Turks in 1994.
At the cemetery of Paralimni, members E.LA.M and "Golden Dawn" attacked Energy minister Giorgos Lakkotrypis and Rural Development minister Nikos Kougialis, as well as representatives of political parties and local bodies.
In addition to insults and characterizations, at some point they moved against the official and threw water bottles, shouting "traitors", "federals" and "vagabonds".
The memorial service was interrupted for a time, with men of the police trying to protect officials and the public. It took the intervention of the Bishop of Constance and Famagusta, Vassilios, and the mother of the hero Tassos Isaac to appease the spirits.
When the Minister Nikos Kougialis, who represented the President of Cyprus Nicos Anastasiades laid a wreath and was assulted, the father of Solomos Solomou took the microphone and asked them to leave the area.
Speaking after the memorial service the two ministers condemned the incidents as unacceptable and inappropriate. The Minister for Rural Development stressed that the government sends the message that its representatives but also representatives of the State will attend and honor the memory of Isaac and Solomos at the national memorial.
The episodes condemned with statements the mayor of Paralimni, Theodore Pyrillis and the Metropolitan Vassilios of Constantia.
Omirou condemns the incidemts
The presiding of the Republic and President of the Parliament, Yiannakis Omirou, said: "I condemn with abhorrence today's bullying in the national memorial of national heroes Isaac and Solomos. The undermining of democracy, intolerance and fascist attitudes led to the betrayal and tragedy of 1974. There are no tolerances. It is our duty to preserve the democratic normality from its saboteurs" Omirou says in a written statement.