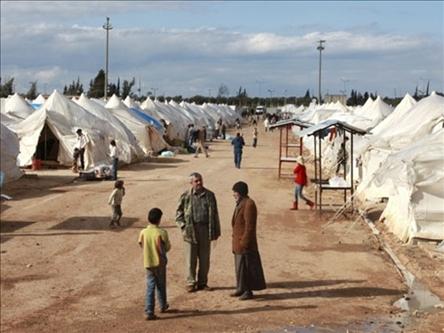 By Manolis Kostidis – Ankara
Serious social unrest has been caused by the presence of thousands of refugees in Turkey as nationalism has reached dangerous levels.
In Gaziantep, southeast Turkey, a Syrian refugee murdered a Turkish citizen who was his landlord due to a disagreement on rent. The killing caused outrage in the city which resulted in a mini pogrom. Turks attacked Syrian refugees resulting in ten stabbings as homes and vehicles of refugees were set on fire.
Timely intervention by the police that used teargas and batons stopped the attacks and vandalism which up until then were out of control.
According to Nationalist Action Party (MHP) MP Semih Yalcin "there are 250.000 Syrians in Gaziantep without any control. There are housing and unemployment issues which are worsening by the day".
Republican People's Party (CHP) MP Mehmet Seker stressed "many refugees entered Turkey without any control. We don't know who they are. Are they members of ISIS, Al Qaeda or are they spies? They all walk around freely without any problem. If they are refugees they should live in specially organized places".
Turkish authorities estimate almost 500.000 refugees have settled in Turkey due to conflicts in Syria and this has serious economic and social cost with unpredictable consequences.
PROBLEMS WITH TERRORISM
Turkish newspaper Taraf reveals Islamist terrorist Magomed Abdurrakmanov, a member of ISIS who was seen beheading three Christian priests in Syria is being held by Turkish authorities. According to the newspaper report, the terrorist should be sent to the US if released by Turkey.
The same report maintains a father by the name of Naser Al Shayeg from Saudi Arabia took his 10 and 11 year old children and handed them over to ISIS members in Turkey to be used as suicide bombers! The father published their pictures online and announced " my children have begun their journey to become martyrs of Allah"!