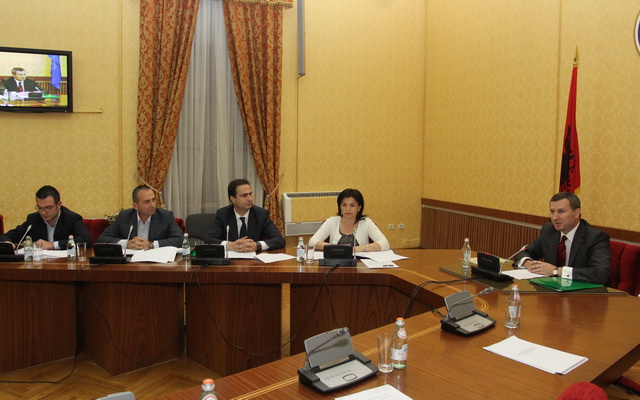 Tirana, May 8, 2013
Following a hearing session of parliamentary inquiry commission in relation to the incident occurred in Political Academy of Vienna, between the leader of Socialist Party, Edi Rama and the diplomat Egin Ceka, the Albanian ambassador in Austria, Vili Minarolli has testified today.
In his testimony, Minarolli said that he was invited to be part of the activity by the organizer Fate Vela, while he stressed that he requested an official meeting invitation by Socialist Party.
The ambassador Minarolli stated that he was a common participant in the activity and explained that at the end of the event after the most of participants had left, during the cocktail where confidential discussions were held, diplomat Ceka approached the leader of SP to have a talk.
In this part, Minarolli added that, Edi Rama was feeling tense as a result of the fact that the meeting hadn't gone as planned, and also because the translation was poor.
He said that he saw Edi Rama's hand close to Egini's head, a moment which angered the latter and forced him to leave. He was taken outside by the participants.
Egin Ceka declared earlier that he participated in the event privately, and he claimed that he didn't utter any insulting words at any moment, but he said he was touched by the words of the opposition leader about the Albanian diplomacy.
During the meeting, Rama had twice reiterated that the Albanian diplomatic service is under the influence of politics and for this reason it cannot serve the immigrants' votes, a comment which led Ceka to meet Rama after the event, where he said that Rama's idea was goundless.
He added that Rama made a friendly gesture and afterwards he ruined it.
Ceka said that he did not react physically but replied verbally using the word "scumbag".
During the hearing session, he declared that he would irrevocably resign from the position of the diplomat, considering himself insulted.
Although he was called to testify in front of the commission about the incident, Edi Rama has refused to participate and this was also confirmed by the chairman of the commission, Fatbardh Kadilli. /ibna/