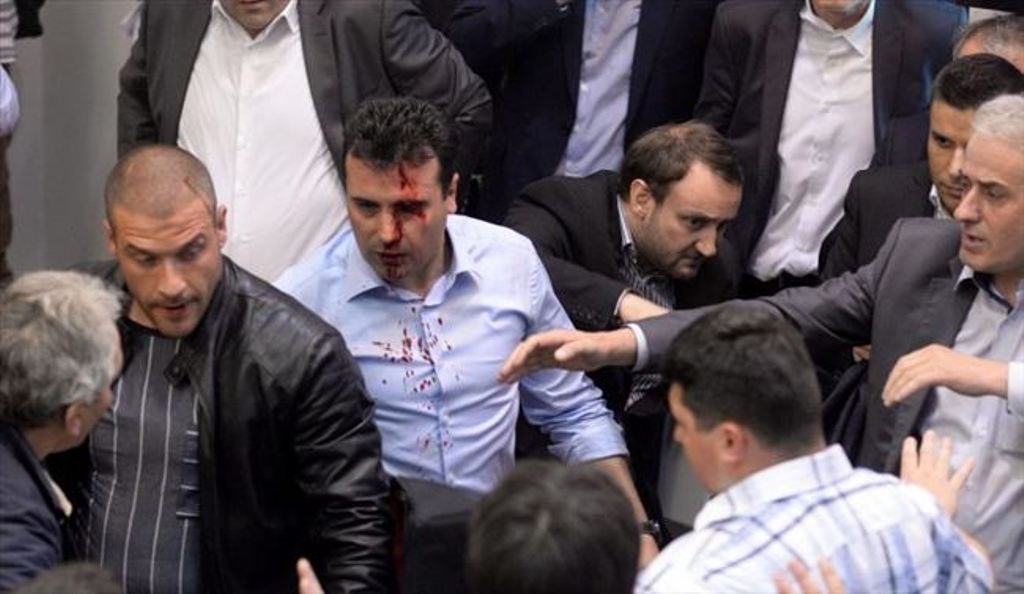 A small party in FYROM called People's Party has proposed a bill which requests amnesty for all of those involved in the violent incidents taken place on the evening of 27 April in Parliament, where MPs were beaten.
"This bill will include all people who were present in the April 27 incidents in Parliament and with this, they will be given amnesty. By applying this law, the state will demonstrate that it wants the country to be united", said Janko Bacev of this party.
This incentive has been indirectly backed by the largest opposition party, VMRO-DPMNE. On the other hand, majority parties said that they're categorically against this proposal.
"It is not responsible to grant amnesty to the physical aggression that was launched against members of parliament that night", said the spokesman of SDSM, Petre Silegov.
Alliance for Albanians also said that the perpetrators must never be forgiven, because the leader of this party, Ziadin Sela was also subject to violence.
"We will never support this amnesty, because their objective was to physically eliminate our leader. Their scenario was a terrorist one ordered by people who have political responsibilities", Flakron Bexheti of the Alliance for Albanians said.
Public Prosecution continues to investigate the events taken place on 27 April, but the new majority parties do not have faith on it, stressing that this institution is still serving to VMRO-DPMNE and Nikola Gruevski.
The new government led by Zoran Zaev has started a procedure for the removal of Attorney General, Marko Zvrlevski, who has been seen in the presence of former head of Secret Services, Saso Mijalkov, who is a person close to the previous ruling party. /balkaneu.com/