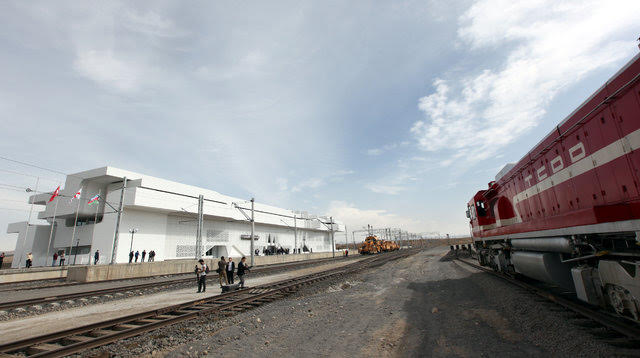 On Monday, October 30, in Baku, the Turkish president, Recep Tayyip Erdogan, his Azeri counterpart, Ilham Aliyev and the premier of Georgia, Giorgi Kvirkashvili will attend the inauguration of the railway line that will connect Azerbaijan with Georgia and Turkey.
The railway connection of Baku-Tbilisi-Kars will allow the transfer of fifty (50) million tones of merchandise per year. Seventy-nine (79) kilometres of the line pass through Turkey, 246 km through Georgia and 504 km were built in Azerbaijan. Immediately after the official opening, it is planned that one million passengers will use the line and 6.5 million tones of commodities are to be transferred. The foundation year of the important railway line connection was 2008.
The Turkish Transport minister, Αhmet Aslan said it is the "railway Silk route".
According to experts, the connection of the three countries is expected to improve China's plans. Beijing has made a huge investment regarding the railway connection with Europe through a plan named "one belt one road".
It is believed that the new line will boost the economic and political relations of Turkey with the countries of Europe and Asia since, thanks to this new work, it will be turned into a key commodity-transfer hub…/IBNA