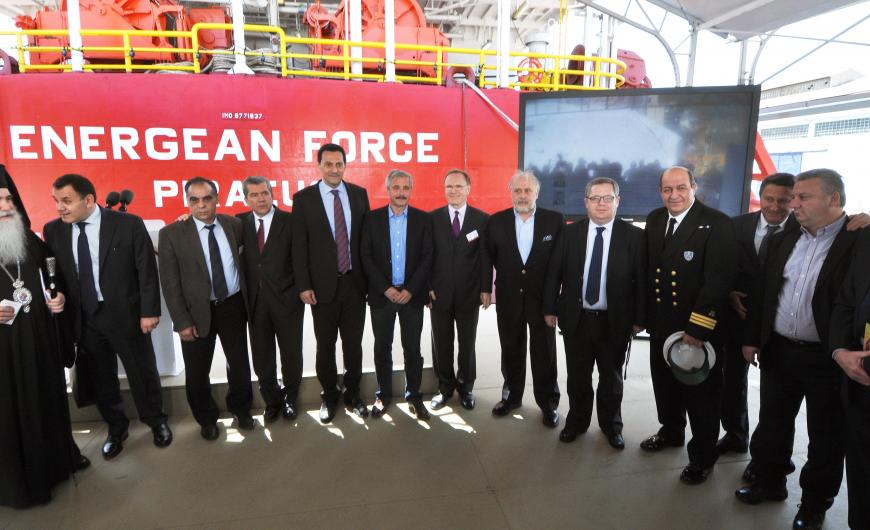 Athens, April 3, 2015/ Independent Balkan News Agency
By Spiros Sideris
The new drilling program in the deposits of Prinos with the aim to produce 30 million barrels of oil in the Gulf of Kavala, starts with the new Energean Force drilling machine, owned by Energean Oil & Gas which exploits the oil deposits in the region.
The inauguration of the drilling machine took place yesterday in the shipbuilding zone of Perama. On behalf of Prime Minister Alexis Tsipras the ceremony attended Deputy House Speaker, Alexis Mitropoulos, who congratulated and wished success in the program.
The total investment in Prinos stands at 200 million dollars and includes, among others, 15 boreholes in Prinos, in the deposit HBC and the North Prinos in the next two years to increase production to 10,000 barrels per day from 2,000 that is today. The extraction of the proven reserves as shown by the Energean will ensure at least fifteen years of oil production in the region and as well as jobs, which at present reach 307 persons directly, while indirectly it is estimated to exceed 1,000 persons in the local economy of Kavala.
According to the president and CEO of Energean, Mathios Rigas, from the implementation of the drilling program and assuming for fluctuations in oil prices between 55 and 70 US dollars per barrel, the overall benefits for the Greek government from paying income tax , withholding taxes and fees (royalties) is estimated to exceed 400 million. Of these, more than 60 million will reap the local community, through the performance of the regional tax of 5%, which is calculated on the profitability of the production activity by the Greek legislation.
Attending the opening ceremony were Kavala MP Nikos Panagiotopoulos, Ambassador of Canada Robert Peck, the Deputy Head of Kavala Theodoros Markopoulos and former ministers Giannis Maniatis and Giorgos Kalantzis. The sanctification was performed by his Eminence Metropolitan Alexios of Nicaea.
The new drilling machine of Energean Force was purchased from the German company KCA Deutag and was refitted in Perama. The total investment in the rig is around 30 million dollars. It can operate at a maximum depth of 220 meters bellow sea level and reach a drilling depth of 6,700 meters, while it is staffed by 116 persons. Energean Force will begin drilling from Alpha Prinos platform and will continue to Beta platform before and then will perform the new drills from the new Lamda platform at Epsilon deposit.