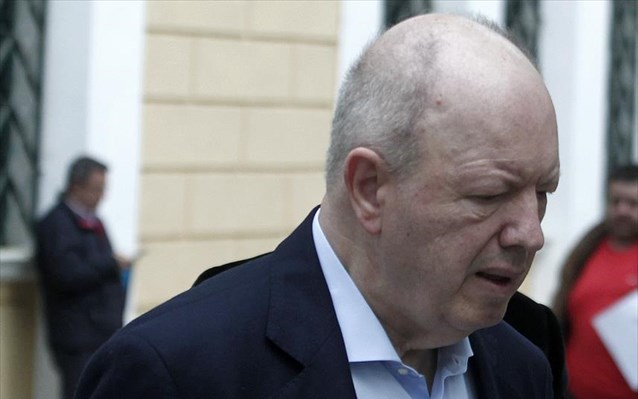 Athens, April 19, 2016/Independent Balkan News Agency
By Spiros Sideris
Host of inaccuracies and omissions were found by the auditors to statements of Stavros Psychari, publisher and journalist, as is clear from the finding issued unanimously by the Asset Means Declaration Commission.
Firstly, the assets statement for the year 2011 (use 2010) shows a negative balance of 965,685 euro. The publisher attributes the amount in the "already taxed or exempt capital consumption tax of 1 mln euro". However, the auditors allegedly did not accept the justification because Psycharis did not provide the relevant information that was requested (false asset means declaration).
Secondly, in asset means declaration of the financial year 2013 Psycharis declares for the first time the possession of GOLDWIND shares without quotes basic information such as the number of units held, when they were purchased and the price paid. Also, in the relevant table in the asset means declaration statement he entered the code 0, which means that these shares were reported in previous years, but this is not supported by the previous statements.
"The failure to declare the ownership of GOLDWIND company's shares during the previous year's declaration at least, filed on 30-06-2011, where the possession of GOLDWIND shares had allegedly been declared, a fact not true, makes the statement inaccurate", emphasizes the finding of the Committee, which was accepted unanimously (false asset means declaration).
Thirdly, in the 2013 statement of Stavros Psycharis his wife appears to sell approximately 14,200 shares of the National Bank, 25.000 Eurobank shares and 120,000 pieces of Greek ASE Exchanges (HELEX) without recording the price. It stated however that the sale was due to a margin call (false asset means declaration).
Fourthly, in the 2015 statement is not listed the number of DOL shares acquired by  Psycharis from the merger of DOL with S.P. PSYCHARIS MEDIA S.A., with the absorption of the latter by the first (incomplete statement).
Fifthly, in the same statement (financial year 2015) are not registered the shares Psycharis appeared to posses in the 2013 statement. This refers to 2.13684 million shares of Cecrops S.A. and 100% of the shares of BRIONTE LTD, SOLARIS LTD, GOLDWIND. In the statement there is no reference to a change in the assets of the holding of shares of these companies (false declaration).
Sixthly, it was found that documents are missing in a host of statements (years 2010, 2011, 2012, 2013, 2014). While there are income tax returns for all registered asset means declarations, bank deposit documents have only been filed for the years 2013 and 2014 (incomplete declarations).
Stavros Psycharis owns the Lambrakis Press (DOL), which publishes the newspaper "Ta Nea" and "To Vima" and is a shareholder of 'Teletypos S.A.", which owns MEGA CHANNEL. Already MEGA has informed that the salary of its employees will not be paid, while payments in DOL are being made in installments.