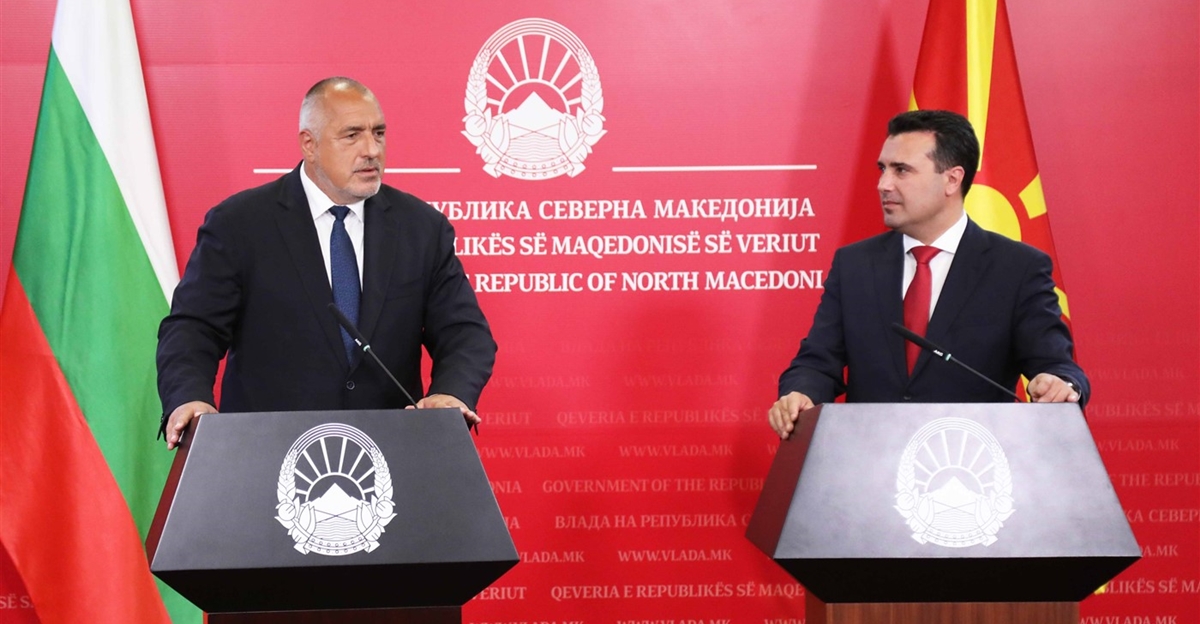 Visiting Skopje, Bulgarian Prime Minister Boiko Borissov has urged a joint Bulgarian-North Macedonia historical commission to "work daily" to come up with a common historical narrative to bring the two countries together.
Borissov was in Skopje on August 1 for celebrations of the second anniversary of the signing of the good-neighbourliness treaty, as well as of key aspects of history shared by Bulgaria and North Macedonia.
"I hope that historians will not only not prevent, but undertake great effort and find the right expression of the history that unites us," Borissov told a news conference with his North Macedonian counterpart Zoran Zaev.
He urged the commission to complete its work on all topics by October. North Macedonia is hoping for progress that month towards the start of EU accession negotiations.
"They should work together as much as possible, and not only should the committee meetings not be postponed, it must work daily."
He said that time was scarce to complete work on topics about which there was disagreement.
The heroes in the countries' history "gave their lives, their energy, they sacrifice themselves so that we can stand together," Borissov said.
He was adamant that there was nothing better for the Republic of North Macedonia thatn to be part of Nato and the EU.
After the news conference, Borissov and Zaev took part in a wreath-laying ceremony at the grave of revolutionary Gotse Delchev at St Spas church in Skopje.
Borissov went on to a meeting with North Macedonia's President Stevo Pendarovski, telling him that Bulgaria is ready to provide strong support for the launch of accession negotiations with the European Union in October 2019.
The Bulgarian Prime Minister added that at the same time, "we expect to see tangible progress and results by the work of the multidisciplinary expert committee on issues of our common history".
A Bulgarian government media statement said that Borissov and Pendarovski had agreed on the understanding that politicians should not interfere in the work of the commission.
Borissov emphasised the importance of the implementation of the Treaty of Friendship, Neighborhood and Cooperation, which was signed in August 2017 in Skopje. According to Borissov, the practical work that follows from this document can bring very positive results for bilateral relations.
Borissov and Pendarovski discussed the possibilities for accelerated construction of Corridor No. 8, which is crucial for transport connectivity in the region. The conversation also focused on the great potential in tourism that both countries can develop, the Bulgarian government statement said./ibna