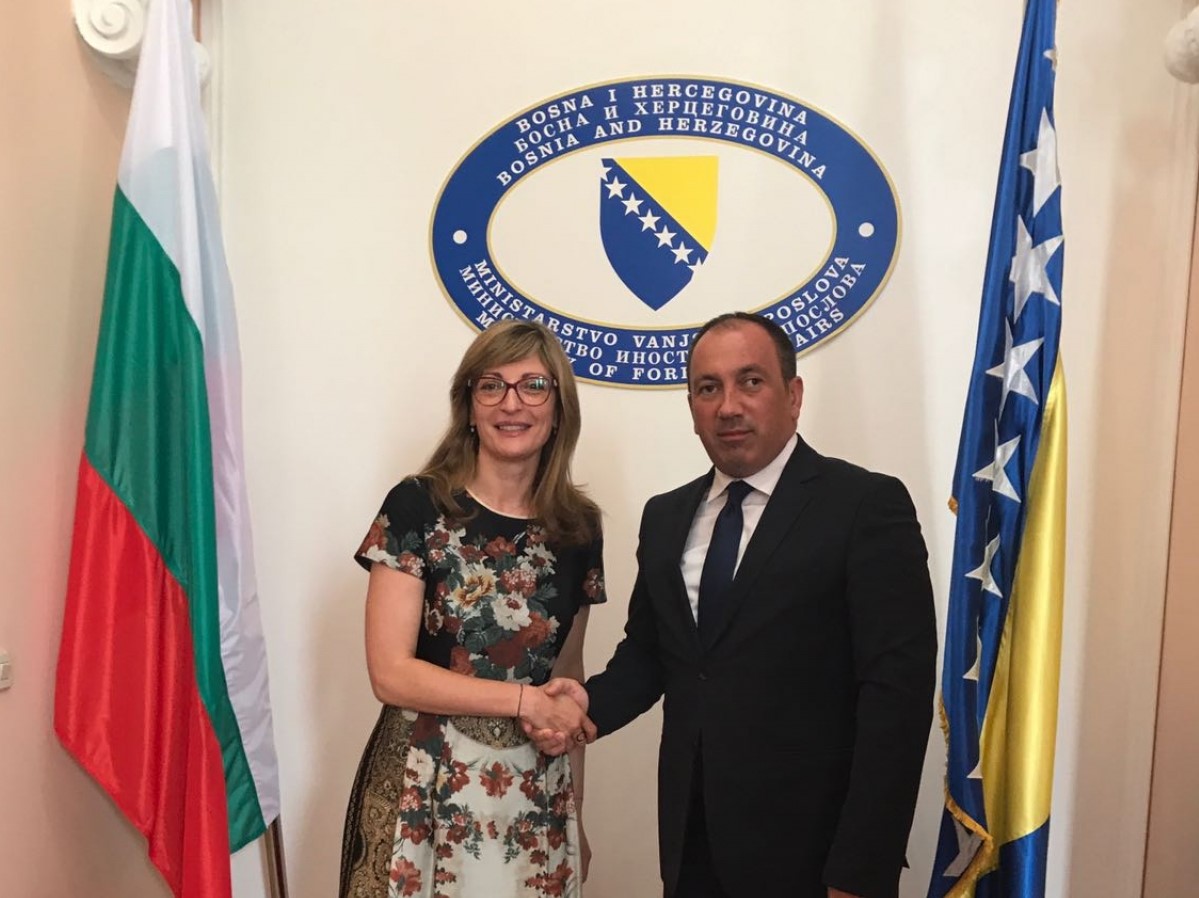 Bulgarian Foreign Minister Ekaterina Zaharieva has told her counterpart in Sarajevo that Bulgaria supports the accession of Western Balkans countries to the EU, and hopes that during her country's EU presidency, Bosnia and Herzegovina will get candidate status.
"But you also have to fulfil your tasks," Zaharieva told Igor Crnadak in talks on August 4.
Zaharieva's visit to Sarajevo on August 3 and 4 is part of a tour she is undertaking of Western Balkans countries ahead of Bulgaria's EU presidency in 2018. Sofia has underlined that during its presidency, the Euro-Atlantic prospects of Western Balkans countries will be a priority.
Zaharieva, who is also one of the deputy prime ministers in Prime Minister Boiko Borissov's coalition government, offered technical assistance to Bosnia and Herzegovina both in enhancing administrative and environmental capacities and in combating crime.
"I hope you answer the European Commission's questionnaire quickly, I understand that the answers will be nearly 30 000 pages, but the European Commission must see the political will to carry out the reforms, and I hope we get a positive sign during our presidency," Zaharieva told Crnadak.
Bosnia and Herzegovina is in the process of preparing answers to a questionnaire of 3242 questions sent by Enlargement Commissioner Johannes Hahn within the framework of the coordination mechanism. This is a procedure preceding the granting of a candidate status.
Crnadak told Zaharieva: "We note your activity in the region and thank you for your attention to the Western Balkans.We have excellent and friendly relations, we have no open issues.
He noted the existence in Banja Luka of a school named "Georgi Rakovski" built in 1972 entirely by Bulgarian workers and with Bulgarian building materials as a gesture towards the city, which suffered extensively in the devastating earthquake in 1969.
The two foreign ministers said they would work together to improve the connectivity between the countries of the Balkans. "We will connect people and businesses more easily by improving infrastructure," Zaharieva said.
She noted that Bulgarian tourists in Bosnia and Herzegovina have increased nearly 45 times, but there is more potential. The turnover, which is 110 million euro, can also be increased.
On the first day of her visit, Zaharieva went to the Butmir military base in Sarajevo, where she talked with the commanders of the Nato force and of the European Union Force Althea (EUFOR Althea). Speaking with Austrian Major General Anton Waldner, who leads EUFOR, Zaharieva expressed Bulgaria's support for the mission, a Bulgarian Foreign Ministry statement said.
Zaharieva also met with the Bulgarian EUFOR contingent. The US Army's Brigadier General Robert Huston, who is the Nato commander in Bosnia and Herzegovina, told Zaharieva he was impressed by the crisis response capabilities of the Bulgarian military, the Foreign Ministry statement said./ΙΒΝΑ