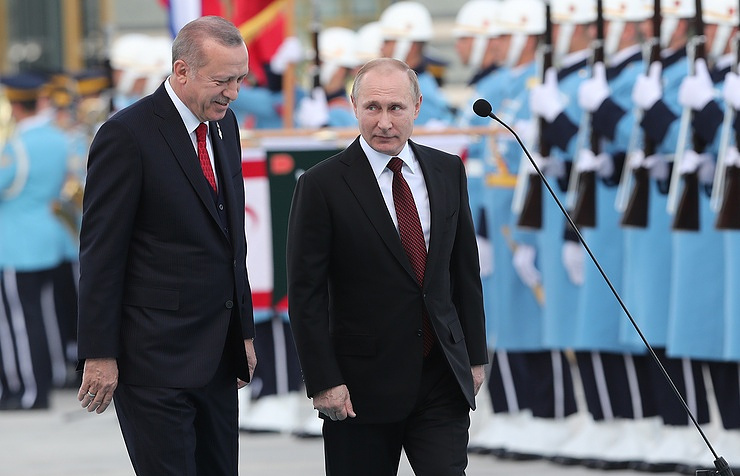 A few minutes after the arrival of Russian  president, Vladimir Putin, in Ankara, along with his Turkish homologue Recep Tayyip Erdogan, they set the foundations of Turkey's first nuclear power station in Akkuyu, through a teleconference from Ankara.
"We are witnessing a historic moment for both the development of our country and our energy cooperation with Russia", the Turkish President said in his speech, while the Russian President said the Akkuyu nuclear power plant is safe and environmentally friendly .
Akkuyu's investment is the largest foreign investment in Turkey as it exceeds USD 20 billion.
"We are aiming in 2023, at the 100 years of our Republic, to be among the top 10 economies in the world. When Akkuyu starts operating with all its reactors we will cover 10% of our country's electrical needs. In this way our energy basket which will still be based on oil, gas and coal, will be more healthy", the Turkish president said.
Putin, in the last 20 months has met nine times with Erdogan, in his speech at Turkey's presidential palace stressed that the Akkuyu nuclear power station is an important step for Turkey's economy, adding that the security measures in Akkuyu are at the highest level, adding that it is an environmentally friendly program.
Energy Minister of Turkey, Berat Albayrak, said that the Turkish president played the most important role in realising this dream, adding that this strong cooperation would be the most important in terms of future steps between the two countries.
The Russian President arrived in Ankara with a delay at 15.20, and at 15.50 he was welcomed by the Turkish President in a special ceremony.
Ten thousand workers will be employed for Akkuyu's nuclear plant construction, while during its operation it will employ 3500 persons. Already, 248 Turkish scientists are being trained in Moscow on nuclear power./IBNA