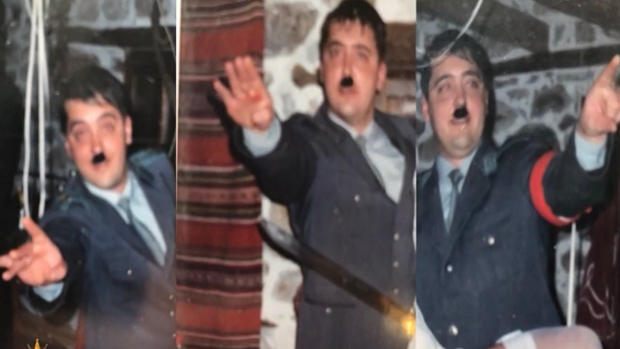 In a statement in the National Assembly on June 16, Prime Minister Boiko Borissov's GERB party repeated its demand for the resignation of presidential counsellor and former caretaker interior minister Plamen Uzunov because of photos of him at a party dressed as Adolf Hitler.
Uzunov has refused to resign as President Roumen Radev's secretary on anti-corruption over the photos, taken at a New Year's party in 2003. On June 15, Radev publicly backed Uzunov, saying it was absurd to equate masquerading as Hitler with flirting with Nazism.
GERB accused the opposition Bulgarian Socialist Party – which backed Radev's ticket in the 2016 presidential elections – of failing to condemn the presidential official for the same offence for which members of the Borissov Cabinet had been attacked.
This was a reference to two recent episodes in which photos emerged of officials giving Nazi salutes. One resigned as a deputy minister, after only two days in office, but the other – a Defence Ministry employee – has retained his job with the backing of Defence Minister Krassimir Karakachanov, a co-leader of the nationalist United Patriots.
GERB MP Toma Bikov, addressing himself to the BSP, said: "We are not giving advice to anyone, but such things are unacceptable. This is a double standard – we are 'flirting with fascism', and you are bringing it down. We're ending up with the maxim from communism, that we are all equal, but some are more equal than others, especially if they are friends of the President".
Plamen Hristov, of the National Assembly's smallest party, Volya, said: "I propose that whatever photos there are at home, we should go and get them out, we should look at them and stop paying attention to nonsense".
The Speaker, Dimitar Glavchev, joked: "I'll call a recess in an hour for us to go to fetch the photos".
Radev, speaking to journalists on June 15, said: "I think that Mr Uzunov has very clearly outlined the circumstances of this case."
Uzunov earlier was quoted as saying that he had dressed up as Hitler at the New Year's Eve costume party because another costume did not fit. He said that the distribution of the photos, which he himself did not make public, was intended to discredit the presidential institution.
Radev said: "You remember that May 9 was the victory over Nazism and I honoured the millions of victims of Nazism. And these politicians, who now want his (Uzunov's) resignation, and who have manipulative arguments, are making as if this date does not exist"./IBNA