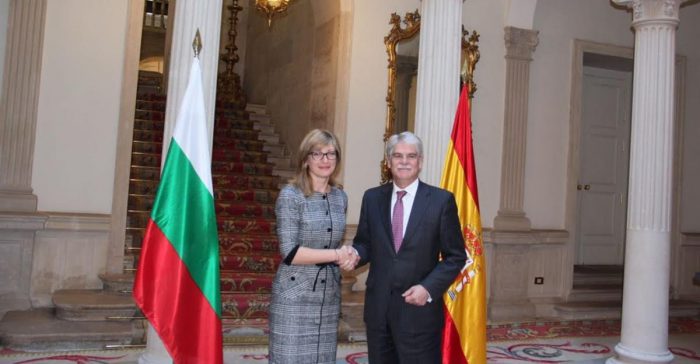 Meeting her Spanish counterpart Alfonso Dastis in Madrid, Bulgarian Foreign Minister Ekaterina Zaharieva has underlined that her country was one of the first to support the territorial integrity, constitutional order and sovereignty of the Kingdom after the crisis in Catalonia.
"We are convinced that the decision you made to schedule early regional elections as soon as possible will return the normal pace of life in the region. For us the rule of law is one of the founding values of the EU. I believe in Spanish justice," Zaharieva said, according to a Bulgarian Foreign Ministry statement.
The two ministers reviewed the excellent state of bilateral relations in all areas, in addition to the important relations between the two societies through the large Bulgarian community resident in Spain of close on 300 000 people, a Spanish foreign ministry statement said.
At an EU level, Dastis and Zaharieva reviewed the content of the main areas that the Bulgarian Rotating Presidency of the EU will focus on and that the country summarised in the concepts of consensus, competitiveness and cohesion, the Spanish statement said.
They also reviewed specific aspects such as Brexit, European Enlargement and Neighbourhood Policies, the Common Security and Defence Policy, migration, Spain's support for the incorporation of Bulgaria in the Schengen area, negotiations on the future multiannual financial framework and the post-2020 cohesion policy.
"The Spanish government will all-round support the entry of Bulgaria into Schengen after meeting all the criteria, as well as the Presidency of the Council of the EU," Dastis said
Zaharieva is on a two-day working visit to Spain. This is the first visit by a Bulgarian foreign minister to the country for 12 years…/IBNA