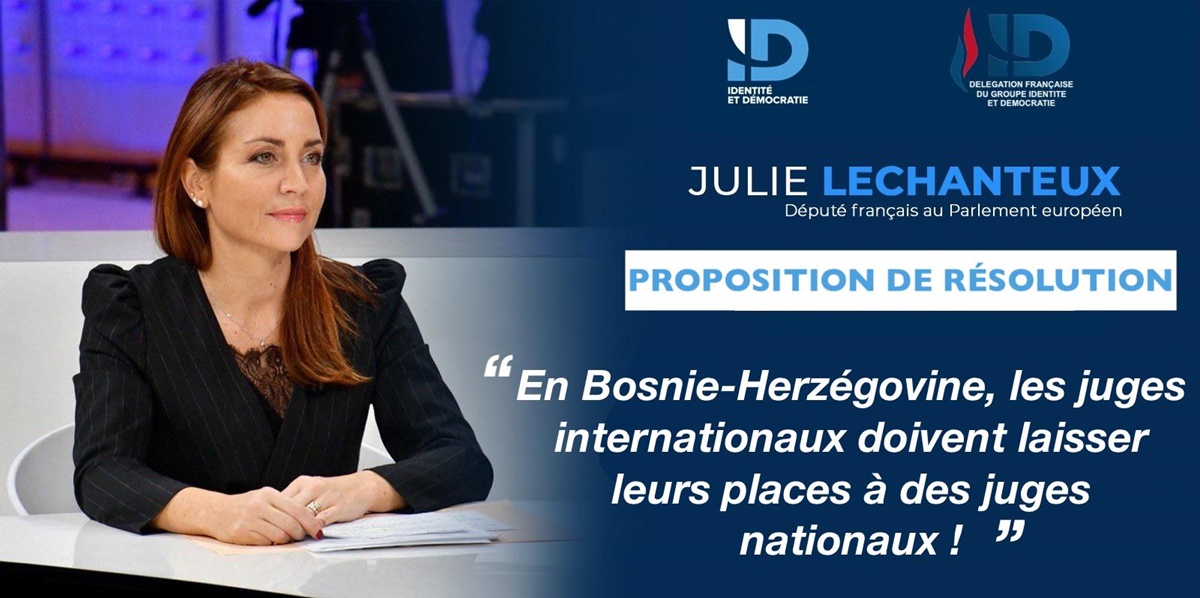 French MEP Julie Lechanteux proposed to EP to adopt a resolution on Bosnia and Herzegovina Constitutional Court, in order to change the foreign judges with judges from BiH. Lechanteux published the proposition on social networks.
"The European Parliament,
– having regard to Rule 143 of its Rules of Procedure;
whereas the Constitution of Bosnia and Herzegovina, established with the Dayton Accords of 1995, provides for a Constitutional Court composed of nine members, four of whom are chosen by the Federation of Bosnia and Herzegovina (two Croats and two Bosnians), two nominated by the Republika Srpska and three foreigners nominated by the President of the European Court of Human Rights;
whereas, too often, these international judges, in violation of the principle of impartiality, have aligned themselves with Bosnian judges, have outnumbered Serbian and Croatian judges and have taken decisions on the basis of criteria more political than legal, especially to the detriment of the Republika Srpska and its autonomy;
whereas the latest judgment on the ownership of agricultural land in the Republika Srpska constitutes a violation of the constitution, as it de facto confiscates 3.5% of its territory;
Proposes, in view of the lack of impartiality of international judges, to reform the Constitutional Court by replacing them with judges from Bosnia and Herzegovina;
Instructs its President to forward this resolution to the Presidency of Bosnia and Herzegovina, the Office of the High Representative in Bosnia and Herzegovina, the Council and the European Commission".
International judges in BiH Constitutional Court is an issue that Republika Srpska has raised many times, demanding a reform that would enable the election of local judges. Each time the proposal was refused and RS representatives were proclaimed as "anti-Dayton" politicians./ibna