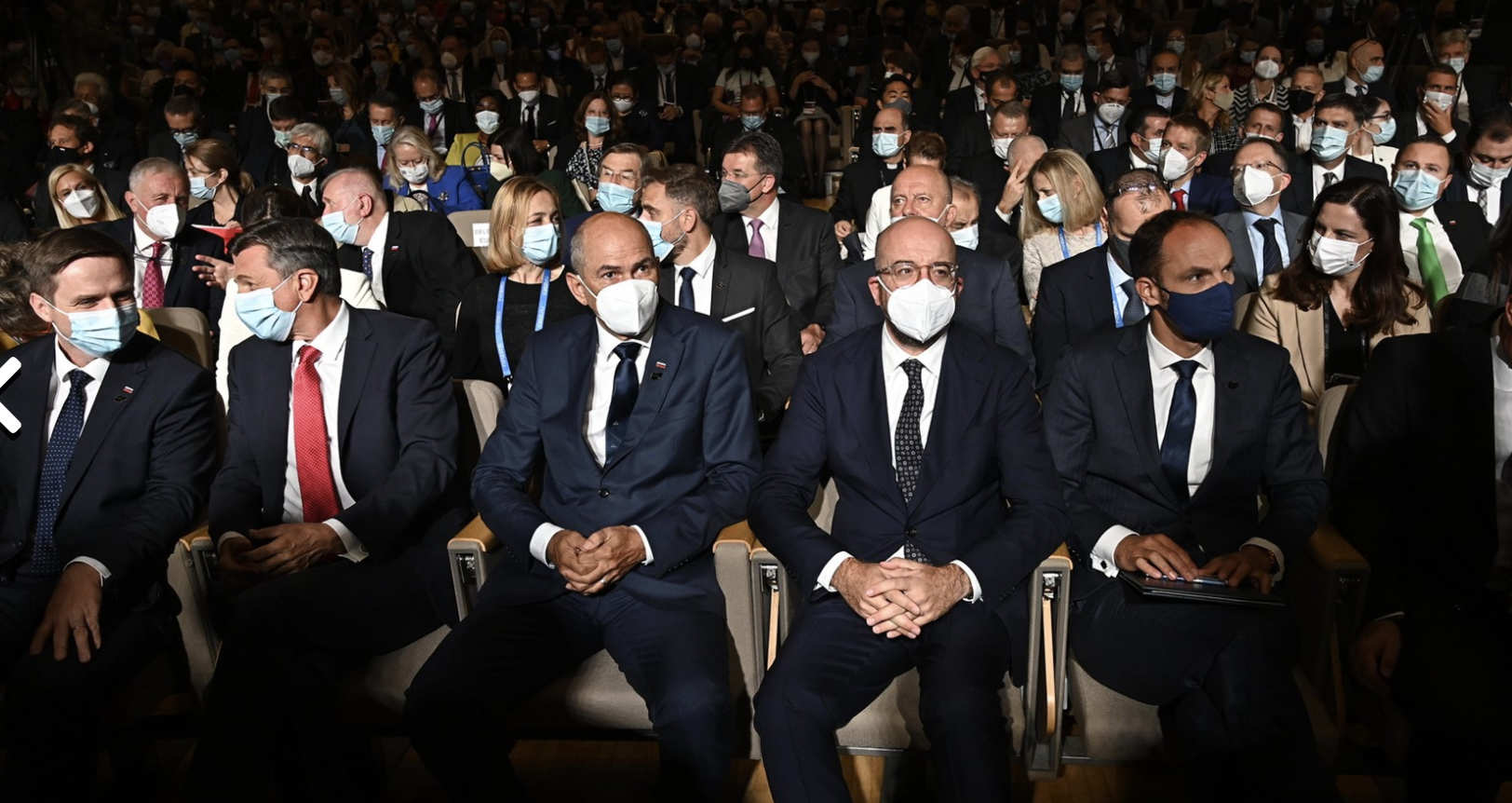 One of the flagship events of the Slovenian Presidency of the Council of the EU, the 16th Bled Strategic Forum, started with the opening addresses by its host, Minister of Foreign Affairs of the Republic of Slovenia Dr Anže Logar, Prime Minister of the Republic of Slovenia Janez Janša and President of the European Council Charles Michel.
Minister Dr Logar welcomed the high representatives of states and institutions, who will contribute their views to the debates on the key challenges that Europe is facing in the 21st century. "Owing to the challenges of the last 15 years, the EU has started to behave more like a problem-solving union instead of a community adopting a strategic approach. This is why the Slovenian Presidency has put topics such as resilience, open strategic autonomy and COFE at the top of its priorities. We need a vision of where we want to see the EU in the future", he said.
"It is imperative we identify strategic responses to the challenges facing both our citizens' everyday lives, and those Europe as a continent might yet see. We must identify those policies where the EU is a global example and incorporate the lessons learned from the crises of the past decade", dr. Anže Logar said.
Addressing the gathered international community, Prime Minister of the Republic of Slovenia Janez Janša said in his opening speech: "This is the central question of our time: How can we understand and implement the values and mechanisms of seeking consensus, mutual respect, subsidiarity and solidarity? A common good that includes the good of every participating nation."
President of the European Council Charles Michel stated: "The European future I wish to discuss is our projects of values, freedoms, prosperity and influence. Our large single market has made us the biggest trader in the world and in turn the larger exporter of standards. The standards we perpetuated most successfully in our neighborhood are democracy, fundamental values and the rule of law."
Both the Presidency's programme and the programme of this year's Forum were designed with a view to finding solutions to existing challenges and focusing our attention on the future of Europe, our common future. The topics of this year's Forum are closely intertwined with the key priorities of the Slovenian Presidency: post-epidemic recovery, green and digital transformation, the future of European integration, transatlantic cooperation, participation in the Indo-Pacific, challenges of the Eastern Partnership countries, stability of the Mediterranean, joint management of the Adriatic Sea and a more efficient response to climate change./ibna