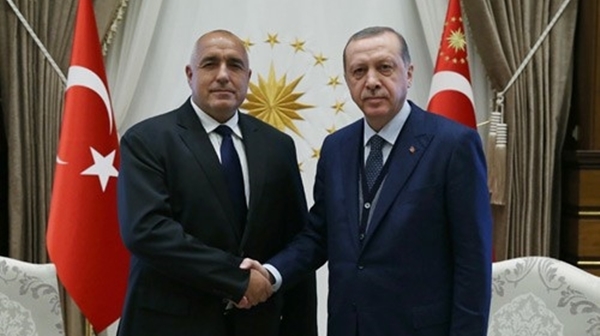 Just a few short months ago, relations between Sofia and Ankara were tense, as the Turkish ambassador was summoned over claims of interference in Bulgarian domestic politics and nationalists called for severing of diplomatic ties and shutting down the border.
In the heady days before Bulgaria's March 2017 early parliamentary elections, the same nationalists made much of protesting at the Turkish border against "electoral tourism" and one of their leaders was seen pushing a woman to the ground.
But in Ankara on June 13, Bulgarian Prime Minister Boiko Borissov seemed determined to put these tensions between his country and Turkey, as he held talks with his counterpart Binali Yıldırım and with president Recep Tayyip Erdoğan.
Borissov said that in the talks, the emphasis had been on what the two countries could do together.
"We tried not to put on the agenda topics that would darken the mood," the Bulgarian Prime Minister said, after his talks with Yildirim and after spending three hours with Erdoğan.
Bulgarian media did not fail to point out, especially after Borissov drew their attention to the fact, that Turkey's ambassador in Sofia, Süleyman Gökçe, was not included in the Turkish delegation to the talks.
In turn, Borissov apologised to the Turkish side for the politician seen on video pushing the woman in the border incident. That politician is Valeri Simeonov, now deputy prime minister for demographic and economic policy, and co-leader of the United Patriots, the grouping of nationalist and far-right parties that is the minority partner in Borissov's coalition cabinet.
Borissov noted that there had been accumulated tension between Bulgaria and Turkey at the time of the March parliamentary elections in Bulgaria and at the time of the constitutional referendum in Turkey.
But both sides seemed bent on accentuating the positive. Yildirim, referring to the failed coup against Erdoğan in 2016, said that Europe had been silent but Bulgaria had been supportive of Turkey. It was not immediately clear what Yildirim was talking about.
Borissov referred to the refugee and migration situation – still a matter for current and potential further future tension between the EU and Turkey – saying that there was "no pressure" on the Bulgarian border, thanks to his country's bilateral agreement with Turkey.
The Bulgarian Prime Minister said that if a bilateral readmission agreement between the EU and Turkey did not go ahead, he would want one between his country and Turkey.
Borissov admitted that Bulgaria could not play a decisive role in the negotiations but promised to continue to work.
"If we have to be realistic, at the moment relations between Turkey and the EU are at their lowest point. During the referendum and elections in the Netherlands and France, things were said that in a normal situation would not be said."
"We set a smaller goal – with diplomacy, tact and persuasion to try to revive relations that existed before," he said.
In Erdoğan's Turkey, the day after the Bulgarian Prime Minister's visit, media coverage of Borissov's time in the Turkish capital was generally positive./IBNA