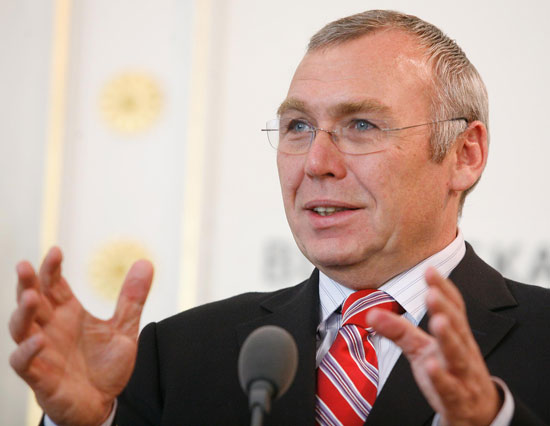 By Miloš Mitrović – Belgrade
Former Austrian Chancellor Alfred Gusenbauer, who will be an adviser to the Serbian Government on the European Union integration issues, said that his priority would be to improve the international image of Serbia. On Friday, Gusenbauer had a meeting in Belgrade with Serbian Deputy Prime Minister Aleksandar Vučić who decided to engage him as the adviser.
Gusenbauer exclusively told National Broadcasting Corporation (RTS) that "Serbia has to implement courageous reforms and spread the news about it as well". He stressed that the improving Serbian image in Europe "is the precondition for the EU membership".
"I will help Serbian Government in its accession negotiations with the EU. This, of course, includes informing the Government about the positions by European capitals with regard to membership", Gusenbauer emphasized in the interview for RTS. At a time, Gusenbauer was a member of Austrian team in accession negotiations with the EU. Austria joined EU in 1995.
Former Austrian Chancellor said that his work on creating the positive image of Serbia would not be "based on fairy tales". Gusenbauer rendered that international reputation of Serbia had been significantly promoted both by initialing the Brussels Agreement with Priština earlier this year and bold anti-corruption struggle. "These are the elements that had been already recognized within Europe. It`s a long path in front of Serbia, but I believe that we have a good start".
When asked what would be his first advice to Mr Vučić and the Government, Gusenbauer responded "this will be very simple – do good things and talk about it". "It is easy to occupy the headlines owing to accidents, murders… it is difficult to be in the focus of attention because of the reforms and improvements. Implementing courageous reforms is not enough – you have totalk about your successes, so that everyone could be aware of your progress".
Gusenbauer said that his participation in accession negotiations with the EU on behalf of Austria "had been starting point" of his political career. Although accession process is important, "Serbia also needs more foreign investments and new jobs". "I have good contacts with business community within Europe and I hope that they will be more motivated to invest simultaneously with the progress in Serbia-EU negotiations."
Gusenbauer explained that he would travel to Belgrade every second week. At the same time, he would open an office in Serbian capital. He said that he was amused with the fact that Belgrade appointed former IMF President Dominique Strauss-Kahn as a financial adviser in the Government.  "He is both good friend of mine and excellent financial expert".