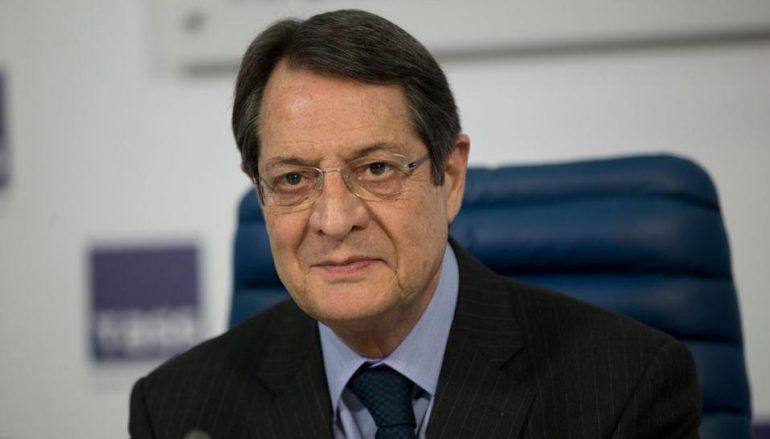 Improvement of Greek-Turkish relations would be an encouraging step towards finding a solution to the Cyprus problem, Republic of Cyprus President, Nicos Anastasiades, said in an interview with the greek daily "Ethnos" on Sunday, expressing his commitment to reaching a solution if he is re-elected.
The President made it clear that a new deadlock could be avoided with good preparation prior to a new Conference on Cyprus, reiterating the Republic's position that Turkey's position on issues of security and guarantees must change to align with that of the United Nations' Secretary General and the EU.
Anastasiades views the forthcoming visit of the President of Turkey, Recep Tayip Erdogan, to Athens in December might be a step towards improving relations, which in turn could help significantly towards making progress in the Cyprus problem.
"My hope and expectation is that President Erdogan has among the key objectives of his visit to Athens the improvement of Greek-Turkish relations, the full normalization of which, as repeatedly stressed by the Greek Government, goes through a settlement of the Cyprus problem", Anastasiades said.
The President dismissed claims that next year's presidential elections in Cyprus were an obstacle to the willingness to take decisions on the Cyprus problem, instead arguing that "the obstacle is Turkey, which, at the crucial moment, was unprepared to make those moves on security issues, that is, on the issue of the guarantees and the withdrawal of the troops. If I am re-elected, I will certainly continue my efforts to resolve the Cyprus issue".
The solution of the Cyprus problem depended on Turkey's willingness to take the necessary step on security issues, Anastasiades stressed./IBNA