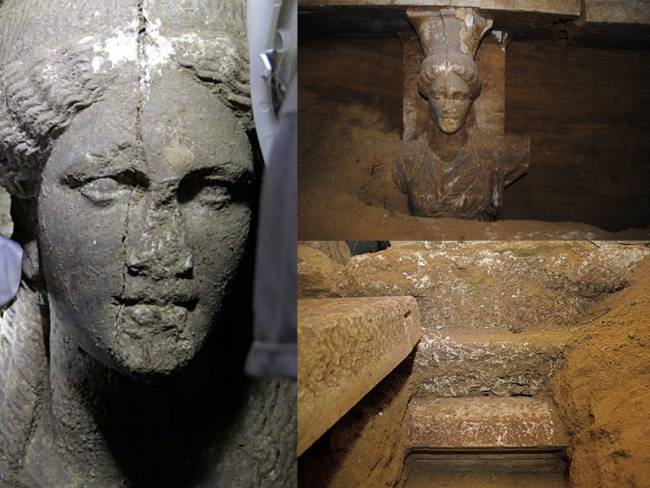 Review Hari Stefanatos
Awe cause the new finds, photos of which were released on Sunday, at the tomb of "Kasta" in Amphipolis. The two marble Caryatids from thassian marble have caused new waves of wonder and excitement, since they support the view that this is an important and magnificent monument.
"There is another wall, the third, which has a hole as the previous one, but the access to it is still difficult… In any case, there will be another entry, and whether it will be with a door or just a standard entry is too soon to say", said the general secretary of the Ministry of Culture, Lena Mendoni, speaking to "SKAI" television and commenting on the new findings.
"This is an extremely important and outstanding monument and the new revelation reinforces this view", stressed Mendoni, a view that is emphasized in the statement of the Ministry of Culture, which states that "the arrangement of the second entry with the Caryatids is an important finding, which advocates the view that this is a significant monument of particular importance".
Meanwhile, Mendoni added that for the creation of the Caryatids was followed exactly the same technique with sphinxes, especially for the heads of sphinxes and their wings. "Every excavation is a magic, each new find, even small and insignificant to the world, creates feelings of emotion and joy; Beyond that, the archaeologist must be calm and use more logically than emotionally", concluded the Secretary General of the Ministry of Culture.
However, it appears that the common conclusion drawn by all archaeologists is that we are faced with a "unique" and "spectacular" monument. Indeed, it is referred as such in the very announcement of the Ministry of Culture, Mendoni pointed out, but is also advocated by many other archaeologists, according to what was reported in the newscast of the greek state television "NERIT". As mentioned in the relevant report of "NERIT", Caryatids have not been found in any other Macedonian tomb.