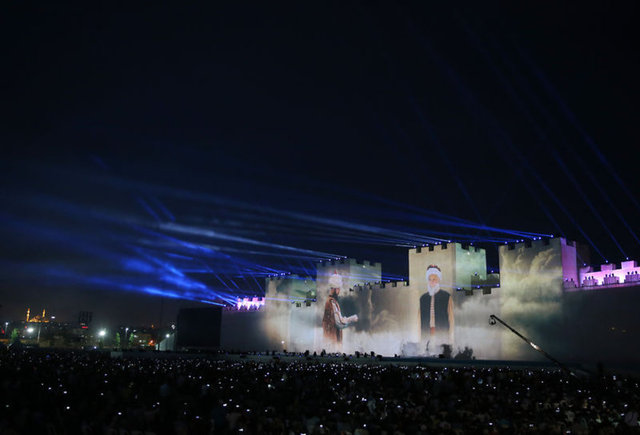 Istanbul, May 30, 2016/Independent Balkan News Agency
By Manolis Kostidis
The biggest stage in the world was set up in Turkey, in the presence of Recep Tayyip Erdogan, to celebrate for another year the anniversary of the Fall of Constantinople.
In the district of Yenikapı of the City were gathered about 600,000 people to participate in the festivities, to which every year the AKP government gives even more value and importance. The event was organised by the municipalities, which gathered the crowd from different regions, even from other cities in Turkey.
Specially scenery were erected this year, while in the evening appeared in three-dimensional form of Muhammad the Conqueror!
For the representation of the "Fall" more than 1,200 people were used, many of them dressed as Janissaries. In the area they erected scenery erected that were "conquered" by "Mohammed" (Fatih Sultan Mehmet)!
9,000 policemen, five helicopters, a submarine, a frigate and three coastguard vessels were mobilised for the celebrations!
"God always save Mohammed the Conqueror who took this city… God see to it that in this city always sounds the prayer of Hodja from minarets… The fall is an event where a 21 year old Sultan brought Byzantium to its knees", Erdogan said in his speech.
"We do not bend our heads except to God. I greet all the afflicted people from Damascus to Tripoli. From Sarajevo to Turkmenistan", he said
The opposition accuses the Turkish president that in recent years he has been canceling celebrations of national holidays to mark the victims of terrorism, but every year he places even more weight to the celebrations of the Fall.
They argue that the aim is to eradicate the history of Kemal Ataturk and the prevalence of neo-Ottomanism.
Muslim fanatics outside Hagia Sofia
Like every year, once again on the eve of the anniversary of the Fall, thousands of fanatical Muslims gathered in Sultanahmet Square outside Hagia Sophia and prayed, demanding to be converted from a museum that is now into a mosque.
"Let the chains break, open Hagia Sophia", shouted the gathered crowd.
"In the name of the thousands of our brethren we want to be allowed to pray in the mosque of Hagia Sophia", said Salih Turhan, the president of the organization of Anatolia youth, which organised the demonstration.