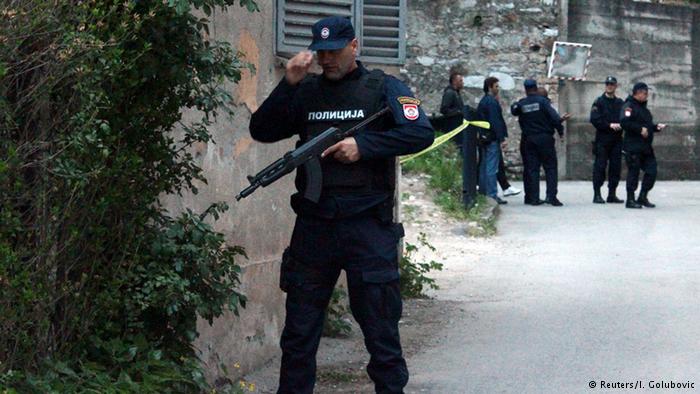 Sarajevo, April 28, 2015/ Independent Balkan News Agency
By Mladen Dragojlovic
One day after radical Islamist Nerdin Ibric (24), killed one policeman and wounded two more in a terrorist attack at the police station of the city of Zvornik, all political leaders and institutions in BiH are calling for peace and tolerance between nations in the state.
Ibric came in front of the station Monday afternoon and opened fire with a shotgun on a policeman who warned him that it is forbidden to park car near station. The policeman was killed on the spot and then the gunman proceeded into the station, shouted "Allahu Akbar" and opened fire on group of police officers who responded by firing back and killing the attacker. According to reports, the gunman had more than one weapons and a lot of ammunition in his pockets.
RS Government held an urgent session Monday night and conclude that it is necessary to preserve the peace, first and foremost, in that area since the gunman was Bosniak and the police officers he killed and wounded are Serbs. The region of Zvornik was a place of large scale war crimes during BiH war 1992-1995. Bosniaks and Serbs were accusing each other for those crimes, but after more than 20 years they have established peace and tolerance which is now jeopardised.
BiH Presidency held an urgent session Tuesday morning and condemned the attack, qualifying it as a threat to security, constitutional order, and international position of BiH and its citizens.
The Presidency of BiH called on citizens of BiH to stay calm and refrain from any activities that might lead to interethnic or interreligious provocations, incidents, and raising tension. In the press release issued after the session, the Presidency called on competent police and judicial bodies at all levels to cooperate with each other and carry out a detailed investigation aimed at establishing all facts relating to the crime committed, including the motives behind the attack, as well as possible connections to other persons or accomplices.
"BiH Presidency demands from judicial, police and intelligence-security agencies to undertake all necessary measures towards prosecuting and sanctioning severely all persons who advocate or prepare criminal acts of this kind, as well as all persons who in any way are linked to such crimes", emphasised three members of the Presidency in the statement.
The attack was condemned by international community High representative in BiH, Valentin Inzko, who expressed his condolences to the family of police officer Dragan Djurić and hoped for the speedy recovery of wounded officers Zeljko Gajic and Stevo Milovanovic.
"I give my support to the law enforcement and security agencies and I am confident that a full investigation into the attack will be conducted. Everyone should refrain from politicising this serious event and let the institutions work unhindered. This is not a time for division but rather for the institutions and the citizens in BiH to come together and fight the grave challenges ahead, such as the consequences of this mindless attack in Zvornik", Inzko said in written statement.
The attack was also condemned by several other international organisations in BiH.
photo: dw.de