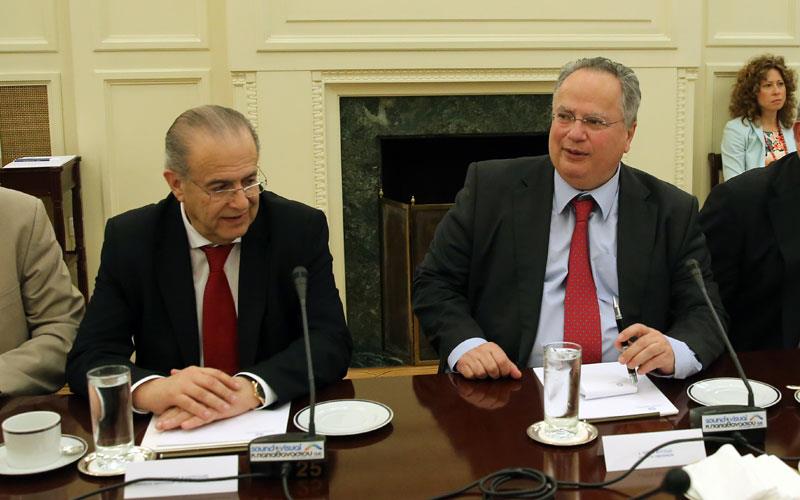 Greek Foreign Minister Nikos Kotzias will have important meeting in Cyprus on Monday, March 27.
Nikos Kotzias is in Cyprus where as a guest of the Archbishop of Cyprus Chrysostomos II he represented the Greek government at the celebrations of the anniversary of Greek Independence and the Revolution of March 25, 1821. Kotzias was the keynote speaker at the event organised by the Archdiocese for the anniversary of March 25 and April 1.
The Greek Foreign Minister's schedule will commence early Monday morning with a meeting at the Presidential Palace with Cyprus President Nikos Anastasiades, he will then meet with his Cypriot counterpart Ioannis Kasoulides at the Foreign Ministry and at noon he will meet President of the House of Representatives Dimitris Sylouris.
On Monday afternoon, the head of the Greek diplomacy will hold meetings with leaders of political parties and will discuss the Cyprus issue.
According to IBNA information concerning Kotzia's agenda of discussions with the Cypriot leadership, there will be a briefing of recent contacts that both the Greek Foreign Minister and Cypriot President had with the new American leadership, an exchange of views on what the future holds regarding talks on the Cyprus issue, an evaluation by Greece and Cyprus of the common policies implemented at a trilateral and multilateral cooperation level, as well as a discussion on issues such as the Eastern Mediterranean, the Aegean, Greek-Turkish relations, Turkey's threats towards Cyprus and other issues in the region.
These meetings are considered by all sides to be very effective, not only for defining the two countries common strategy, both on the matter of solving the Cyprus problem and on the continuation of the talks as well as the internationalisation and better information of the international community on the issues to be solved, but also on the maximising of security through already constructed partnerships./ΙΒΝΑ