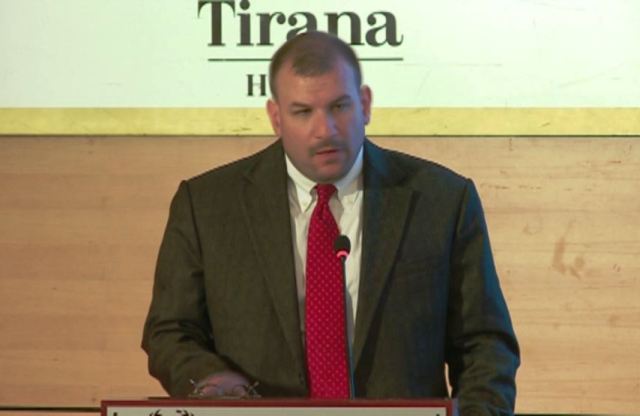 Tirana, 25 May 2016/Independent Balkan News Agency
Important American companies have decided to implement their plans of investing hundreds of millions of Euros in Albania.
This was declared by the Vice US Ambassador to Tirana, David Muniz.
He says that due to the lack of confidence on the Albanian justice system, US companies that had planned on investing 250 million USD, didn't choose Albania.
"Albania loses millions of dollars in potential foreign investment every year due to its failed judicial system.  In the past year alone, we have spoken with multiple companies — one seeking to invest up to $250 million. These companies have opted to invest elsewhere out of fear that they would not be able to get a fair trial in Albanian courts.
There was one specific observation we heard over and over again – the courts in this country exist to serve the corrupt at the expense of legitimate businesses," Mr Muniz said.
Based on this fact and many others, the diplomat the necessity of the reform in justice. He says that currently, Albania is in a critical phase of the reform in the justice system. While the Venice Commission has offered its opinion, the ad hoc parliamentary commission is examining the respective bills.
According to Mr. Muniz it is very late for substantial amendments in the main parts of the reform in the justice system.
"This reform is critical and the current draft has been assembled by many experts over many months.  To the Parliament, I say it's time, high time, to get this reform done."
The US diplomat says that there are negotiations for the final version that will be submitted for voting and adds that "it is too late for substantial changes to important parts of the reform."
Mr. Muniz warns that "Let's move ahead and finish the job.  There is no time left for delays and endless argument."
The declarations of the representative of the US embassy were made during a meeting for the impact of the Reform in the Justice system in the foreign investments, a little before the ad hoc comission for the Reform in the Justice system started its last meeting for the examination article by article of the reform. This Commission will continue its work, but it is not clear when it will finish it.
Mr. Muniz request to vote the reform as soon as possible, without wasting any time, comes a few days after the Democratic Party presented an extended project with proposals. These new points that the opposition offers, address, according to it, the issues that require political decision making.
The opposition also suggests changes in the new justice structure which is proposed by Albanian and foreign experts.
Among the changes that the DP requests are the reduction of the number of new institutions included in the version prepared by experts of the American mission OPDAT and the European mission EURALIUS. /balkaneu.com/