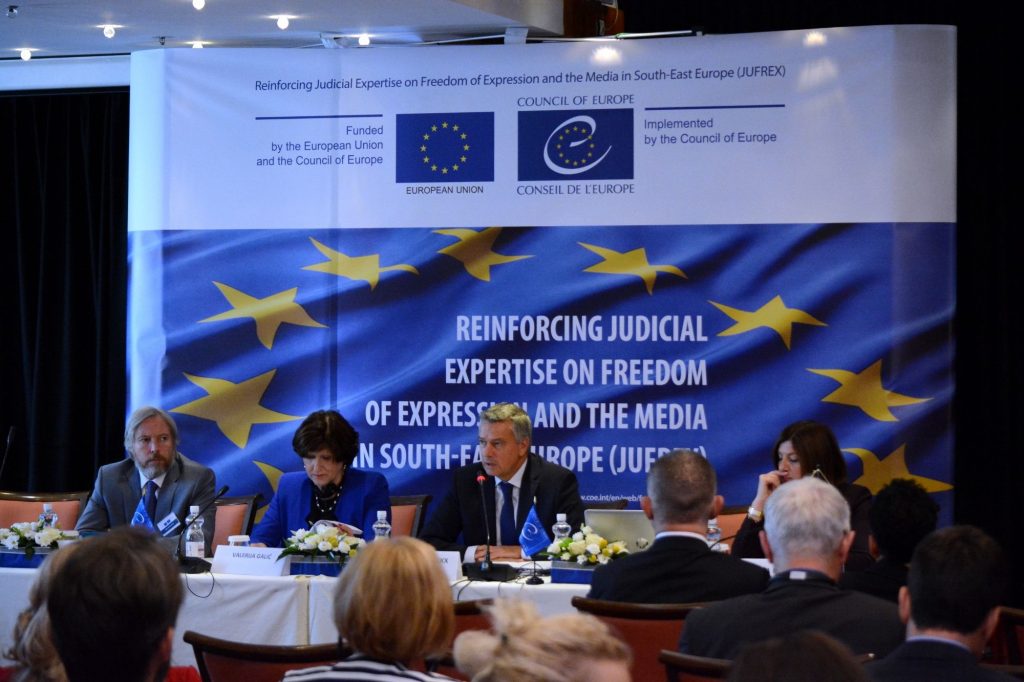 Sarajevo, October 14, 2016/Independent Balkan News Agency
By Mladen Dragojlovic
A new regional programme named "Reinforcing Judicial Expertise on Freedom of Expression and the Media in South-East Europe (JUFREX)" was officially was launched in Sarajevo at the first Regional Conference, which finished Friday. The programme is focused on cooperation of the judicial sector on the application of standards relevant to Article 10 of the European Convention on Human Rights (ECHR), right to freedom of expression.
The JUFREX Programme is co-financed by the European Union and the Council of Europe, and it is implemented by the Council of Europe in six locations of the region, for a three-year duration.
Head of Information Society Department, Directorate General Human Rights and Rule of Law of the Council of Europe, Patrick Penninck, in the opening remarks highlighted the relevance of the application of established and evolving case-law of the European Court of Human Rights within the Council of Europe Member States as a key requirement for the functioning of a democratic society and noted the importance of the justice sector in this regard.
"The overall Programme objective is to promote freedom of expression and freedom of the media in line with Council of Europe standards, with a specific focus on the judiciary in South-East Europe. Hence, the target groups of the Programme are judges, prosecutors, lawyers, but also media regulatory authorities, journalists and other media actors", announced the EU Delegation in BiH.
David Hudson, Senior Expert at the Centre of Thematic Expertise on Rule of Law/Fundamental Rights and Democracy, Directorate General for Neighbourhood and Enlargement Negotiations (DG NEAR), European Commission, stated that the standards of the Council of Europe on freedom of expression and the media are the standards of the European Union and will as such be observed for each country within Chapter 23 of the EU accession process.
Judge of the Constitutional Court of Bosnia and Herzegovina, Valerija Galic, explained the detailed analysis of the scope of Article 10 ECHR and its application within the BiH judiciary, including the legislative environment as well as the judicial application of standards set by the European Court of Human Rights.
On the Conference Agenda, the focus was on the needs of the Region countries regarding the application of standards of Article 10 and will validate or modify country-level needs assessments and the activities that will take place.