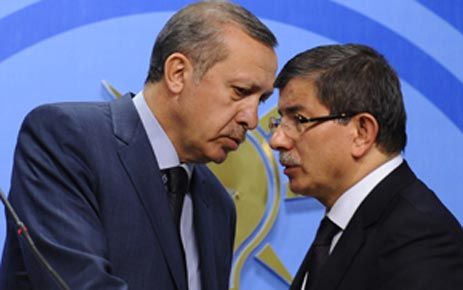 The cooperation with Erdogan
Big question mark the problems in foreign policy
By Manolis Kostidis – Ankara
Recep Tayyip Erdogan and Ahmet Davutoglu were born on the same day (February 28) and that's just as well, since one could argue that only astrologers can predict the future of Turkey's foreign policy after the choice of the latter for prime minister.
However, the cooperation of the two men from their old roles as Prime Minister and Foreign Minister, looks set to continue in the same direction during the new period.
Erdogan announced that the AKP will elect the current Minister of Foreign Affairs of Turkey as party president and prime minister. A few months ago everyone expected that this position would be filled by the current President of Turkey Abdullah Gul, who was considered to be a close friend of Erdogan and was among the founders of the AKP.
But experienced political analysts observe that a lot has changed in the political scene of Ankara, with Erdogan only trusting entirely and cooperating closely with two people for setting up the strategy of Turkey in the Middle East and foreign policy. Ahmet Davutoglu and the Head of the turkish secret service (MIT), Hakan Fidan. Erdogan, who on August 28, will assume the duties of the President of Turkey wants to continue along the same path.
To prevent the possibility of Abdullah Gul running for candidate in the party's presidential elections he set it up for August 27, when Gul formally remains President and cannot run. It was a clear message from Erdogan, who wants to control all the developments both in the AKP and the country.
Ahmet Davutoglu when in 2009 undertook his duties as Minister of Foreign Affairs had set the "zero problems with neighbors" as the aim of his policy. The truth is that he did not succeeded; on the contrary Ankara has serious problems with Syria, Israel and Egypt and many other issues with Iraq and Iran. Turkey for the first time in its history has no diplomatic relations with three major countries of the region and remains without ambassadors to Damascus, Tel Aviv and Cairo.
The biggest blunder of his ministry was not evacuating the Turkish consulate in Mosul in time, resulting in Islamic terrorists of ISIS kidnapping 49 Turkish diplomats along with their families and holding them hostages for 1.5 months now.
His prediction in 2012 that "Assad will be gone within six months" was unfortunate as the President of Syria remains in place and Turkey, because of its absolute support to the armed rebels who fought against him, is considered the greatest enemy of Damascus.
If the scenario that wants Hakan Fidan taking over as Foreign Minister comes true, it will be really interesting to see the foreign policy that will be drawn by the triad Erdogan, Davutoglu, Fidan, as well as what they will do with the Kurdish matter, since Kurds await its resolution as they were promised and already there is turmoil in southeastern Turkey.