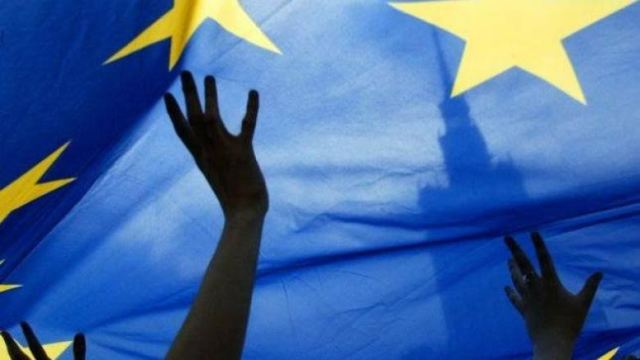 A year ago, Kosovo established contractual relations with the European Union by signing the Stabilization and Association Agreement.
The implementation of this agreement which guarantees the free movement of goods, services, people and capital will give way to Kosovo's European integration.
The head of the EU office in Kosovo, Nataliya Apostolova says that the agreement in question has many benefits, but also obligations.
"SAA contains more than 6 thousand actions that Kosovo must carry out in order to advance toward the EU", Apostolova says.
According to her, Kosovo must do more in delivering economic and political criteria and to fully implement the provisions of the agreement.
Professor of European Law, Muhamer Pajaziti told IBNA that the implementation of SAA is a good opportunity for Kosovo to carry out the reforms and to create opportunities for trade, investments and access in EU funds.
"There will be a difficult start, because in the absence of competition, Kosovo will deepen trade deficit. There will also be losses from customs due to the lifting of taxes. But these losses will be covered by EU's aid of 650 million euros", he says.
According to him, within 7 years, the agreement will enable Kosovo's economy to boost production capacities and become able to compete with European economies, especially in the domain of agriculture.
"If we progress well in this aspect, within a short period of time, Kosovo may be able to apply to become an EU member candidate", Pajaziti says.
Meanwhile, expert of European affairs, Llokman Mirtezani told IBNA that the government of Kosovo is responsible for the full implementation of the contractual agreement with the EU.
"Government of Kosovo must draft a strategy for the economic development of the country, which would subsidize agricultural and industrial production. The state must help Kosovo producers be issued with certificates for the quality of their products and to promote them in new markets", he said.
Meanwhile, the implementation of the Association and Stabilization Agreement between Kosovo and the EU, signed on 27 October 2015 in Strasbourg, started to be implemented on 1 April.
The Stabilization and Association Agreement, which for the first time establishes contractual relations with the EU, has been considered as the most important event for Kosovo since the declaration of independence.
The National Program for the implementation of the Stabilization and Association Agreement with the European Union has been ratified on 10 March 2016 by the Parliament of Kosovo.
This program is the main strategic document for the implementation of the European agenda which covers the period from 2016 until 2020 and focuses on three strategic aspects of the EU accession: delivery of SAA obligations, harmonization of national legislation with the EU legislation, the implementation of the harmonized legislation, etc. /balkaneu.com/