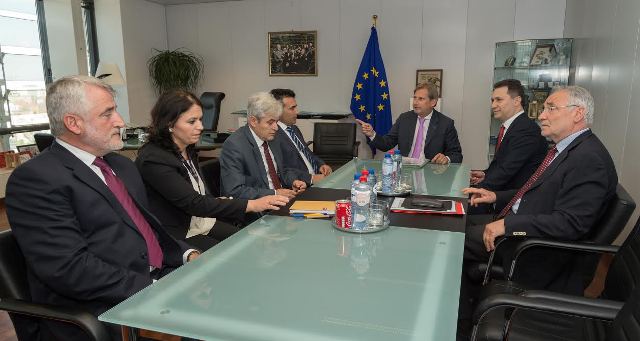 Skopje, 20 July 2015/Independent Balkan News Agency
By Naser Pajaziti
Under the agreement which was reached on Wednesday between political parties in FYROM for the solution of the political crisis and the holding of early elections, work is set to begin for the deliberation of the points of the agreement.
Under the first point of the agreement, parties must deliver the recommendations of the European Commission, conveyed by the European expert, Pieter Van Houte, who will follow the progress of reforms.
The first task is to clear any irregularity from voters' lists. The debate for this will also involve domestic experts. Darko Aleksov of "Most" organization which monitors elections, told IBNA that the best way to create an accurate electoral list is through an active registration of voters.
"If we have an active registration, then each citizen who wants to vote, can go to a branch of the State Election Commission (SEC) and register there. In such case, SEC will not depend on the data sent by the Ministry of Interior", Aleksov declared.
Meanwhile, SEC says that it's ready to create an electoral list by taking finger prints beforehand.
Vice chairman of SEC, Subhi Jakupi says that finger prints can also be used for verification during the voting process.
"Given that technology has advanced, I believe that if there's good will between experts and representatives of political parties, there can be compromise", Jakupi says.
On the other hand, OSCE/ODIHR has recommended an inspection of the electoral register, identifying problems. Meanwhile, another topic which will be discussed by the work group, will consist on the voting of the Diaspora.
Aleksov of "Most" organization, says that the Diaspora vote must be cancelled at least for the April elections, which are considered of a special importance. The same opinion is also shared by the vice chairman of SEC, Subhi Jakupi.
Macedonian opposition led by SDSM (Macedonian Social Democratic Union), but also Albanian party in opposition PDSH (Albanian Democratic Party), are against the holding of elections in the Diaspora, due to the different irregularities in the past two elections. According to the electoral system, the Diaspora elects three MPs and in the two recent elections, they were all won by VMRO-DPMNE of PM Nikola Gruevski.
Work groups will discuss and solve other issues which are part of the agreement between the four main parties, reached last week with the mediation of EU Enlargement Commissioner, Johannes Hahn. /ibna/