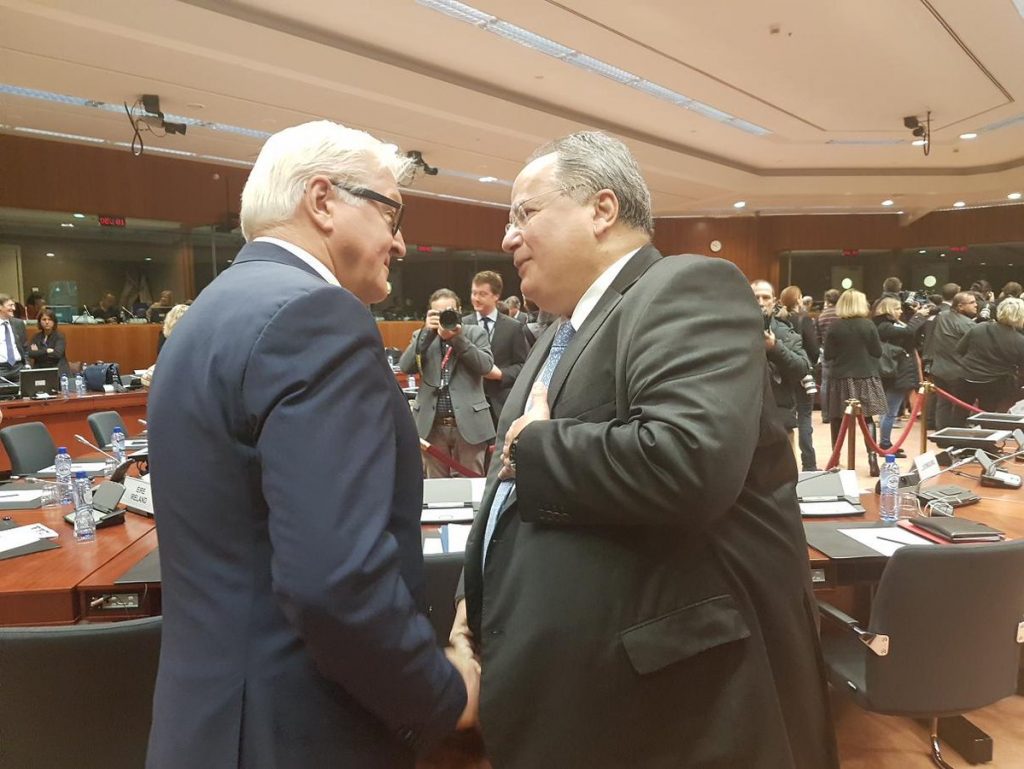 Greek Foreign Minister Nikos Kotzias attended the special meeting of EU Foreign Ministers in Brussels on Sunday. During the dinner hosted by the EU High Representative for Foreign Affairs and Security Policy Federica Mogherini EU-US relations and how they could be developed were at the centre of discussions.
The discussion also explored the impact the Trump election would have on Euro – Atlantic relations and European issues .
Of course it is clear that the special meeting of EU Foreign Ministers, creates a feeling of panic on the side of the EU which proves the inextricable relationship with the US, but also a lack of strategic planning for autonomous, creative and productive Foreign Policy on the EU's part.
There were some notable absences from the dinner, like the German, French and British Foreign Ministers but those Ministers who did attend discussed ways of undertaking a number of initiatives to provide bilateral information on a series of issues, such as the Iran deals and climate change.
The Greek Foreign Minister Nikos Kotzias stated that we should demonstrate respect concerning the US election result and assist in making Europe's position known. The Greek Minister added that "it should be understood that the Trump election was not coincidental but it was a result of major structural problems which the US faces and which the EU will face or is already facing such as the compression of middle class income, the inability to reflect the working classes and the feeling that a big part of society has been abandoned and defeated by globalization".
Consequently, Kotzias stated that, "structural problems associated with the implementation of neoliberalism as well as austerity policies lead to policy changes and, where possible, the left provides a direction that remains internationalist and pro-European. In other countries where there is no left presence these demands find a way to express themselves through anti – European or de-internationalised perceptions".
He added that "there is also a large portion of the American population that believes that the part America plays as the benevolent ruler in international politics is too expensive and that America should not bear the weight of these costs alone".
The Greek Foreign Minister also explained that in his opinion "the next US government will care more about the economy. Based on this it is possible that it will be less hostile towards Russia and will counter problems in its economic relations with China."
However, according to European diplomats, Europe once again proved unprepared to manage a crisis, something that became abundantly clear after the terrible management of the refugee crisis, the Greek Financial crisis, Brexit and now the Trump election./ΙΒΝΑ