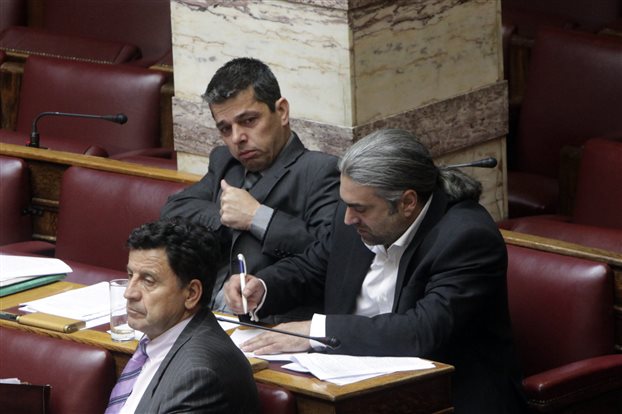 By Lefteris Yallouros – Athens
The immunity of four MPs of Greece's neo-Nazi part "Golden Dawn" was lifted Wednesday after a vote in parliament.
The vast majority of deputies voted for the immunity of MPs Giorgos Germenis, Nikos Michos, Stathis Boukouras and Chrysovalantis Alexopoulos to be lifted. Germenis and Boukouras face charges of illegally possessing weapons and explosives, while Michos faces drug-related charges and Alexopoulos is accused of belonging to a criminal organization.
Germenis and Boukouras were granted special leave from prison in order to defend themselves in parliament, a first in Greek parliamentary history. The duo, along with Golden Dawn leader Nikos Michaloliakos and another three of the 18 lawmakers elected on the Golden Dawn ticket are in jail pending trial for allegedly running a criminal organization, and immunity has already been lifted on those charges. They have all denied any wrongdoing.
In fact, addressing parliament, both Boukouras and Alexopoulos distanced themselves from the party. Boukouras broke down in tears and said he was "not a fascist or a Nazi" and that in the past he had supported socialist PASOK. Alexopoulos said he was afraid of the consequences a decision to leave Golden Dawn would have had.
Germenis and Michos on the other hand stuck to their beliefs, stating their allegiance to the neo-Nazi party. "This day will be remembered in history as the day an elected lawmaker appeared in Parliament led in handcuffs from prison," said Germenis. "We are political prisoners," he added.
The motions to lift the MPs' immunity were passed with the support of between 182 (in Boukaras' case), 183 (for Alexopoulos) and 197 (in the case of Germinis and Michos) votes. Surprisingly enough, however, several New Democracy, PASOK and right-wing "Independent Greeks" party members voted down the motion for Boukouras and Alexopoulos.
Eleven non-Golden Dawn MPs in total, including former Parliament President Apostolos Kaklamanis.