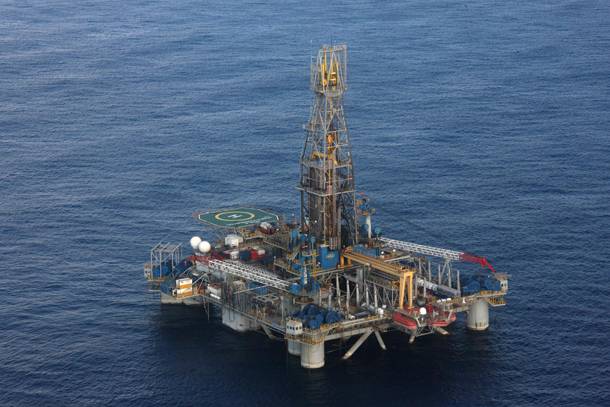 By Christos Meliopoulos – Nicosia
The long-awaited moment, the arrival of the Noble oil rig to the maritime exclusive economic zone of Cyprus in order to perform the confirmatory drilling in the Aphrodite natural gas field, has finally come.
The ENSCO 5006 rig of the American company will need a couple of days to stabilise its position, meaning that by the end of the week (7/6) the appraisal well work will begin.
The significant step in Cyprus's energy, economic and diplomatic policy future has been accompanied by talk of what needs to be done now to complement and fully utilise the new dynamics. High diplomacy will determine the use and management of the natural gas. But on the ground people in charge point to much more urgent issues, mainly the establishment of a workforce capable of running the whole operation even before the extraction has begun.
The decision, as it stands right now, is for Cyprus to go ahead with the construction of a Liquefied Natural Gas (LNG) plant in the south coast. Work is scheduled to commence in about three years' time. That means that even before the expected revenue of the actual gas exploitation, Cyprus theoretically stands to benefit from the creation of thousands of jobs relating to the LNG unit.
To be more precise, Charalambos Ellinas, chairman of KRETYK, Cyprus's Hydrocarbon State Company, says that there will be 7,500 new job places up for grabs. Mr Ellinas believes that reality dictates that around 5,000 of them will go to foreigners, as Cyprus lacks the necessary expertise to provide the workforce for the whole procedure, from construction to operation.
The key suggestion in Nicosia is that for the rest at least 2,500 vacancies to be filled by Cypriots there needs to be a specific skills training programme, starting tomorrow were it possible. The building part of the LNG will definitely provide an opportunity for many Cypriots that taste the bitter cup of unemployment.
Energy experts agree that for Cyprus to be able to say that it has not let a chance for a complete turnaround of the economy to pass wasted, it absolutely needs to get as many of its people as possible involved in the grand new project.
IBNA understands that foreign high technology firms with a sustained interest in Cyprus, specialising in creating the structures to encourage and help Cypriots acquire the necessary expertise, have already asked to present their ideas to the island's authorities. People in charge are reported to have understood the need and the opportunity for Cypriot people to become "a bit more Israeli", as one official put it. "Gas is not only about gas, or at least it shouldn't be. It's about all the things it brings along, starting with all the new technology," added a foreign entrepreneur who wants to be part of the preparatory phase of the Cypriot energy revolution.