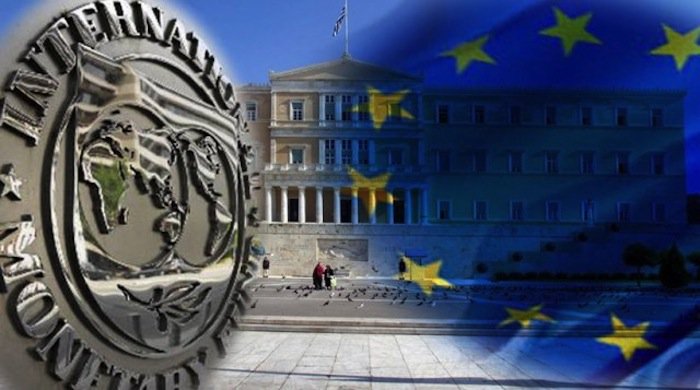 The IMF Board will need to meet again to reach the final decision to activate the programme in Greece, clarified Gerry Rice, the Press Representative of the Fund, while speaking to reporters.
He reiterated that the decision is based on two parts: reforming progress and debt alleviation that will make debt viable. Discussions about both situations continue; when reaching the ultimate decision, we will go to the BoD of the Fund, he added.
Greece and European institutions seem to be near the end of the completion of the third ESM evaluation and we are waiting for the final announcements on Monday's Eurogroup, he said.
"If one looks back to 2015, he will see that we have made considerable progress on the debt issue. But not all the differences have been bridged and we are working hard for a good result so that the country can pursue sustainable growth," Mr. Rice said.
Eurasia: The IMF wants a slice of the programme pie
In one of the most bizarre and unexpected turnovers in European politics, the IMF -a long-standing critic of the attitude of Europeans to handling the Greek debt- now sends signs that it wants to participate in the Greek programme, the Eurasia Group reports.
As it points out, there are a number of reasons for this and most of them do not concern Greece.
Above all, there is widely accepted assumption that "the world does not revolve around Greece" and the Fund risks being isolated if it is outside the Greek programme. This is particularly important -according to Eurasia- given the difficult relations with Donald Trump.
A competitive relationship with the EU would leave the Fund "isolated" by its two major financiers and in the worst case scenario it could endanger its funding.
Mrs Lagarde seems to "see light," Eurasia says. The self-sustaining instinct of the Fund contributes to a different approach. Fund staff have begun to improve relations with European counterparts and seriously consider activating their involvement in the programme. This, however, is far from a closed deal.
The Eurogroup will not approve a debt relief for Greece beyond the framework that was agreed on 15 June, 2017…/IBNA