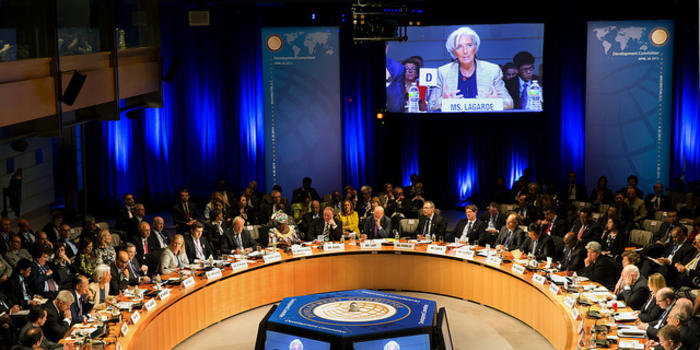 Athens, April 15, 2016/ Independent Balkan News Agency
By Zacharias Petrou
Presenting a policy agenda document released during the IMF and World Bank spring meetings in Washington, Managing Director Christine Lagarde said "the last thing Greece needs is delay [in its bailout program review]. I totally agree with the Greek government on this".
The IMF Managing Director appeared unmoved from her tough demands and insisted the targets set out by the IMF must be achieved by the Greek government.
According to the IMF chief, only if the Greek government and Greek citizens really made heroic efforts, absolutely heroic efforts the 3.5% primary surplus target could be achieved.
Christine Lagarde added that the IMF always believed that real and realistic figures are needed as well as measures that can be implemented. She added that the Greek bailout program must rely on two pillars: being realistic and being sustainable.
The IMF always believed that real and realistic figures are needed as well as measures that can be implemented, Lagarde pointed out.
The climate being developed between Greece and the IMF of late is reminiscent of last summer's negotiations and the great financial and political crisis that followed.
Greece's European creditors want the Greek bailout program review to be wrapped up immediately and believe that Greece and the EU institutions are very close to a deal.
The role of the United States, however, will be crucial and this is why the European Commission will reportedly attempt to convince US Treasury Secretary Jack Lew that the Greek review should not be allowed to drag on until June. European officials are expected to urge US officials in Washington to pressure IMF Managing Director Ch. Lagarde to make concessions and step back from some tough demands.
Eurogroup President Jeroen Dijsselbloem will also apply pressure during his meetings with key players at the IMF Spring Meeting for the review to be concluded by early May.
On Thursday the Greek government expressed satisfaction with the result of Prime Minister Alexis Tsipras' meeting with European Parliament President Martin Schulz.
According to Greek reports, Schulz acknowledged there was no need for Greece to take additional measures. The Greek PM explained the decision to table tax and social security reform bills to parliament, which is "the right of any sovereign country's government" according to Athens.
Schulz and Tsipras reportedly "agreed that institutions and the Greek Government should follow the agreement reached last July," when it was decided to grant Greece a third bailout.
"Greece and institutions are invited to do the best they can to complete the review as soon as possible", was the statement of the two leaders.