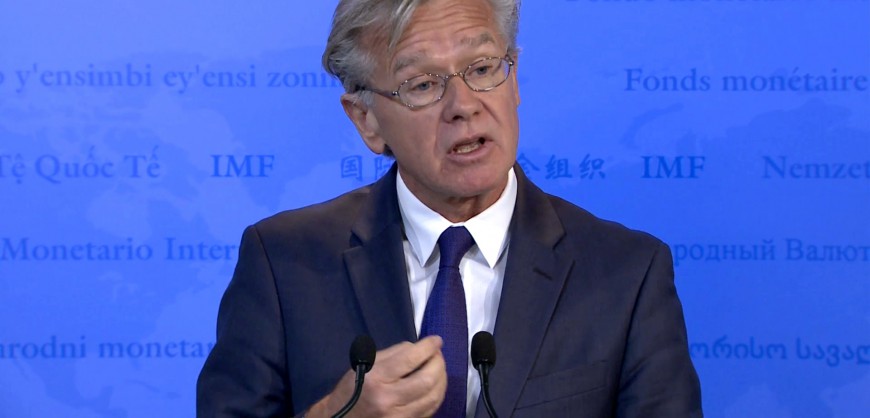 International Monetary Fund (IMF) spokesman, Gerry Rice (photo), told reporters on Thursday that the Greek government could decide, if it wanted to, to repay its debt to the Fund early, acknowledging that such a development would reduce Greece's debt load, as IMF loans from the first two bailouts are expensive to service.
Earlier this week, local media reports in Greece suggested that the Tsipras administration may opt to use funds raised in a 10-year bond issue for the early repayment of debt to the Washington-based Fund.
Responding to a journalist's question on whether or not Athens has stated such intention to the IMF, Rice said early repayment is s decision for Greece to make. Moreover, the spokesman said early repayment would not affect the post-bailout monitoring of the Greek economy by the IMF.
Referring to the issue of the mountain of non-performing loans (NPLs) on the books of Greece's systemic banks, Rice said the Fund will provide a detailed assessment in a report next Tuesday. The health of Greece's banking system was on the agenda of an IMF Board meeting earlier this week.
Local reports suggest the IMF is keen on monitoring the Greek economic recovery, as the country is third on the list of IMF loan recipients. Banking issues are thought to be the thorniest in terms of Greece's talks with the Fund in the context of the post-bailout monitoring.
Meanwhile, ahead of a Eurogroup meeting on 11 March, Athens is thought to be keen to convince the IMF and its Eurozone creditors that it is well on the agreed reform track, so as to secure a 1 billion euro tranche of post-bailout funding.
In this context, the head of the Parliament's Budget Office, Frangiskos Koutentakis, warned that a "negative" Eurogroup meeting for Greece could force the government to take corrective measures.
If the government fails to secure a green light for the disbursement of the next tranche of post-bailout funds, State coffers will feel the pressure and a "wrong message" will be put out to international markets, according to Koutentakis./IBNA