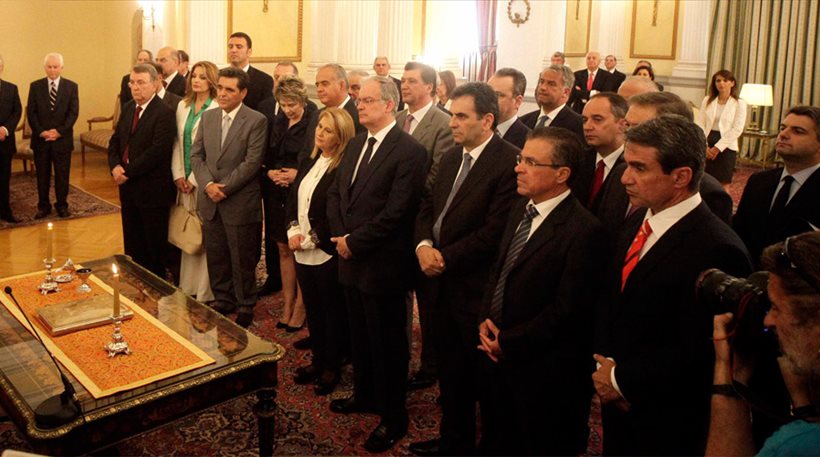 By Lefteris Yallouros – Athens
The new members of the Greek government were sworn in Tuesday following a reshuffle announced by Greek Prime Minister Antonis Samaras on Monday. The ceremony coincided with the release of the International Monetary Fund's report on the country's adjustment program.
This is the first IMF report since the end of July 2013 and comes 40 days after the European Commission (EC) published its own review report on April 25.
After hearing the Prime Minister call for non-stop hard work round the clock, the new ministers read the IMF report which outlines the uphill battle the Greek government faces if it is to avoid implementing fresh austerity measures in 2015 and 2016.
The report urges the government to increase efforts to liberalize markets, combat tax evasion and speed up public administration reforms adding that additional savings measures were necessary to plug a public financing gap in 2015-16.
"There's still a bit to go, but I would say that Greece is close to the goal line," on improving its public finances, Poul Thomsen, head of the IMF's mission in Greece, said in a conference call with reporters, adding that he was not prepared to say whether Greece will need a new bailout deal.
Taking over from outgoing Yannis Stournaras, Greece's new Finance minister Gikas Chardouvelis sent the country's lenders a message by insisting that "we must do what we want and not only what the troika wants". Chardouvelis also stressed, however, that the economy must stay on the reform track.
Meanwhile, deputry Prime Minister Evangelos Venizelos issued an even harsher message to the troika inspectors. Speaking to the new ministers during a cabinet meeting, Venizelos said Greece's EU allies must realize that the country is not in the same financial state it was two years ago and that the comings and goings of troika inspectors to Athens on a regular basis is harming the reform drive.