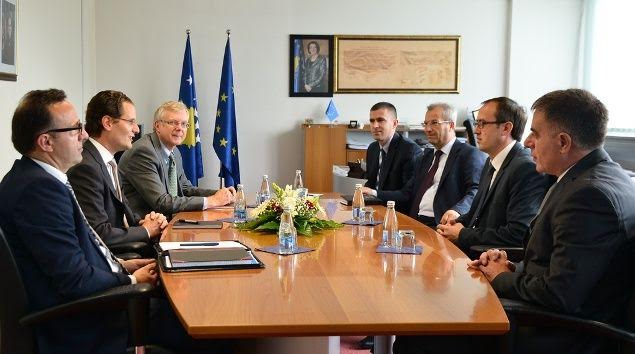 Pristina, 26 January 2016/Independent Balkan News Agency
By Elton Tota
The deep political crisis and the lack of dialogue between the main parties is damaging Kosovo's economic development.
The head of the International Monetary Fund office in Pristina, Ruud Vermeulen says that the political gridlock can have an impact in delivering projections.
According to him, if this situation persists, parliament of Kosovo cannot approve new laws.
"This is worrying, because in order to deliver economic growth projections, there must be legal amendments. There are also threats in delivering these projections and these threats consist on the difficult political situation, which may have an impact in bringing down consumption, investments and revenues", he said.
International Monetary Fund says that projected economic growth in Kosovo this year is 3,8%. According to them, this is a good rate, but not sufficient.
Meanwhile, the Government of Kosovo group for the monitoring of the implementation of the Stand-By agreement with the International Monetary Fund has reported on Monday on the actions planned for the coming period.
In a press release, the ministry of Finance says that "so far, all the reforms relating to the Stand-By program have been successfully implemented and this enables a successful ending of the 2015 tax year and the approval by the IMF board of the first agreement review".
The statement also says that the minister of Finance, Avdulla Hoti has briefed the participants that 2015 tax year registered a very good performance with a significant growth of tax incomes, rigorous control of expenses, a budget deficit lower than the legal rate and significant rise of fiscal reserve.
The head of IMF, Ruud Vermeulen also said that the government has achieved several positive tax results. According to him, these results come as a result of cutting several non productive expenses by the government, including salaries, goods and services.
Vermeulen also said that the fact that salaries were not increases, was also good news for Kosovo.
"The law on salary rises will come into effect in 2018, but even when it comes in power, salary increases will depend on economic development", Vermeulen said.
In June, Republic of Kosovo had struck a deal with the IMF with a value of 185 million euros for a period of 22 months in order to implement several capital projects, which have an impact in the economic development of Kosovo. /ibna/