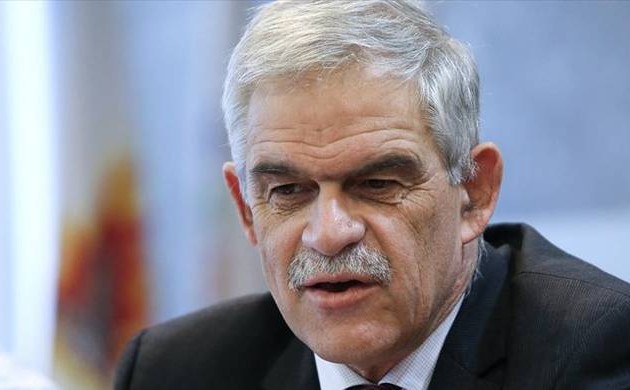 Greece's Minister for Citizen Protection, Nikos Toskas, confirmed on Thursday evening that a parcel bomb that exploded at the offices of the International Monetary Fund in Paris earlier on Thursday was sent from Greece.
A woman suffered minor injuries from the explosion of the booby-trapped parcel that was addressed to the Fund's Director for Europe, Paul Thomsen. In fact, it was confirmed that the sender mentioned on the parcel was the spokesman of Greece's main opposition party, Vasilis Kikilias, a former minister of Citizen Protection.
French President, Francois Hollande, said the explosion was a serious "attack" while IMF Managing Director, Christine Lagarde, condemned the explosion as "a cowardly act of violence." "I reaffirm the IMF's resolve to continue our work in line with our mandate," she added.
On Wednesday a similar parcel was found at the German Ministry of Finance. Police in Berlin intercepted the parcel which mentioned the name of New Democracy party Vice President, Adonis Georgiadis, as a sender. Georgiadis confirmed that his name was one the parcel, adding that his "targeting by terrorists is continuous."
Via a post on an anarchist web-site, Greek terrorist group "Conspiracy of the cells of fire" claimed responsibility for the parcel bomb that was sent to German Finance Minister Wolfgang Schaeuble.
In 2010 the group claimed responsibility for parcel bombs sent to foreign embassies in Athens. The terrorists warned that more acts would follow, claiming at that the parcel bomb was the "second act" of an operation entitled "Nemesis plan." The "Conspiracy of the cells of fire" first surfaced in Greece in 2008 with a wave of fire-bombings against luxury car dealerships and banks. In 2010, letter bombs by this group addressed to German Chancellor Angela Merkel in Berlin and then Italian Prime Minister Silvio Berlusconi were intercepted by police.
According to local reports, Greek police have located the post office branch from where the parcel was mailed to Wolfgang Schaeuble and are examining CCTV footage.
"There is a thorough investigation to ascertain any possible oversight from the part of the company responsible for checking all air mail that is sent abroad," Greek Post Office, ELTA, said in a statement.
Greece's counter-terrorism service on Thursday said it was investigating whether the attacks in Paris and Berlin are linked./IBNA